Cubic Beats Expectations in the Fourth Quarter
Tuesday, December 8, 2020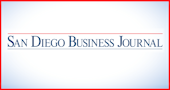 Cubic Corp. capped off the tumultuous year of 2020 by beating analyst expectations.
The business, which specializes in defense contracting and technology for government transit agencies, ends its fiscal year on Sept. 30.
Analysts surveyed by Yahoo Finance expected the Kearny Mesa business to produce adjusted earnings of $2.04 per share in the fourth quarter. Cubic actually produced adjusted earnings of $2.82, some 38% higher than the analysts' consensus estimate.
Revenue for the fourth quarter was $475.4 million, which was a record, up from $471.2 million in the same quarter of last year.
When measured using GAAP (or generally accepted accounting principles), Cubic had earnings of $1.82 per share in the recently ended quarter, up from $1.33 per share in the year-ago quarter.
"We ended the fiscal year on a strong note, delivering record fourth quarter sales and adjusted EBITDA and strong adjusted free cash flow," said Bradley Feldmann, the company's chairman, president and CEO. Adjusted EBITDA, or adjusted earnings before interest, taxes, depreciation and amortization, came to $104.2 million, up 36% from the same quarter last year. Adjusted free cash flow was $87.5 million.
A $1.48 Billion Year
For the full year, Cubic reported a net loss from continuing operations of $3.7 million, or 12 cents per share, on revenue of $1.48 billion. In fiscal 2019, Cubic reported net income from continuing operations of $51.1 million, or $1.67 per share, on revenue of $1.5 billion.
The company estimated that the COVID-19 pandemic negatively impacted sales by up to $73 million during fiscal 2020 as customers delayed orders and fewer people rode public transit.
Cubic produces and supports fare collection technology for transit systems in urban areas such as London, New York, Boston, Los Angeles and the San Francisco Bay Area.
Cubic ended its fiscal year with $128.6 million of cash and cash equivalents, up from $65.8 million at the end of fiscal 2019.