Micro-Apartment Complex Coming to Vista
Sunday, December 6, 2020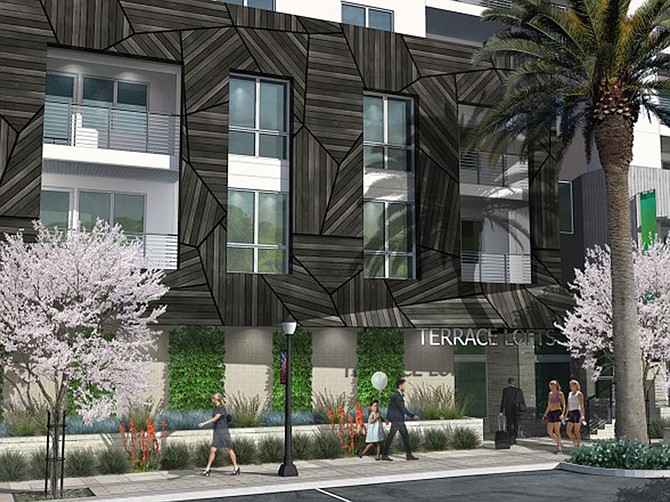 Tideline Partners based in Del Mar is building a $15.5 million micro-apartment complex in Vista with apartments as small as 435 square feet.
"We're the first project in Vista to have micro-units," said Tideline Managing Partner Lev Gershman. "We feel like we're addressing a need that's underserved in North County."
Tideline Partners is keeping the 42 apartments in the five-story Terrace Lofts project small to keep monthly rents down, Gershman said.
The firm has started construction with plans to finish by the second quarter of 2022.
"It's not a luxury product so we can offer them at a lower price point," Gershman said. "People shouldn't be paying 60% of their gross income for a roof over their heads."
Monthly rents will start in the $1,600 range for studio apartments to about $2,600 for apartments with dual master bedrooms, Gershman said.
Workshop
The apartments will have polished concrete floors, recessed LED lighting, wood grain finish cabinetry, ceilings that are more than nine feet high, ceiling fans, and a microwave oven instead of a full-sized oven in the smaller units to save space.
"If you're living in a studio, you're not likely to be having a large dinner party," Gershman said. "You need to be able to bake a pizza, lasagna or a chicken."
To give the apartments a roomier feel, each apartment will have a balcony of at least 75 square feet, Gershman said.
To encourage people to get out of their cars, Terrace Lofts will have eight bicycle lockers with charging stations for electric bikes and a workshop stocked with tools in the parking garage where residents can make bike repairs.
"It's a healthier lifestyle and it's healthier for the carbon footprint and less congestion," Gershman said. "It's one of those things that we felt passionate about. They could just sit vacant but we don't think they will. It seems like folks who never used to ride a bike are considering that (electric bikes) as an option because all of a sudden you can go up a hill without any concern."
The workshop also could be used to assemble modular furniture.
On a clear day, residents will be able to catch a glimpse of the ocean from what Gershman called 500 square-foot a rooftop nest that will include a fire pit, a barbecue and a living plant wall.
No commercial space is planned to start, but Gershman said two ground-floor apartments will be designed so they can be converted should the demand for commercial space pick up.
"There's too much old stuff that needs to be absorbed before we think new commercial makes sense," Gershman said.
To break up the massing of the 60-foot-tall buildings, Gershman said they have been designed to look like two separate buildings with a tower in the middle.
"We felt a high level of responsibility being the first market rate property in that district to really set the bar."
Art
Terrace Lofts will be in a portion of downtown Vista along the redeveloped Paseo South Santa Fe Avenue between Vista Village Drive and Civic Center Drive where the city is trying to attract art-related projects and tenants.
"We're focusing on projects that have a connection to the creative culture in Vista, the crafts culture in Vista," said Kevin Ham, the city's director of economic development. "Art is a big part of the Vista community.
As part of the Paseo Santa Fe redevelopment, Ham said the city included art pieces in the two new roundabouts that have been finished and will include one in a third that is part of the final phase of the redevelopment.
Ham said Tideline Partners "has really gravitated" toward the city's plan with plans for a 60-foot tall mural on an exterior wall of their project.
Gershman said the mural will face the historic core of downtown.
Tentative plans are to bring an internationally renowned muralist from the Netherlands to live in Terrace Lofts while working on the mural and share his skill with local artists.
"We're really leaning into this idea of trying to support what will become an area where artists are living and creating," Gershman said.
Tideline Partners was drawn to downtown Vista because "it's a really, friendly, human scale," Gershman said.
"You could really traverse the entire downtown on foot or bike very quickly," Gershman said.