GoSite Raises $40M in Series B Funding
Sunday, December 6, 2020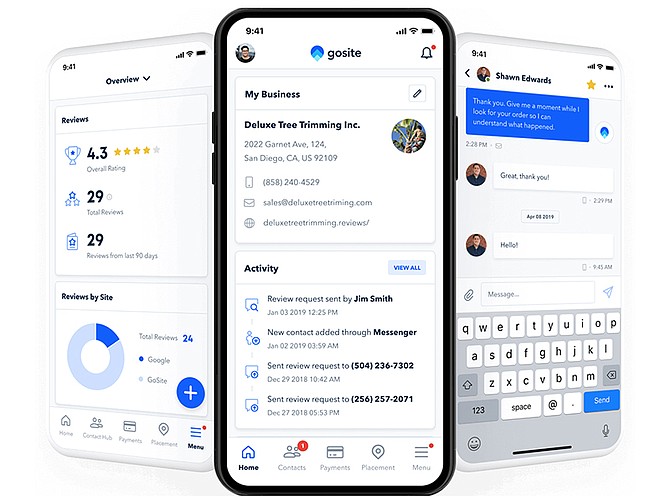 GoSite, a San Diego company which provides cloud software for small and mid-sized businesses to build and grow their online operations, has raised $40 million in Series B funding.
Left Lane Capital, a New York-based growth fund, led the funding round. Longley Capital, Cove Fund, Stage 2, Ankona Capital and Serra Ventures also participated in this round.
San Diego-based Longley, led the company's Series A round in August of this year. This latest funding round brings the total raised by the company to $60 million.
The company plans to use the funds to grow operations and expand its product offerings to help more small firms establish an online footprint as they adapt during COVID-19 pandemic.
"GoSite puts the power back in the hands of small business owners," said Alex Goode, GoSite CEO. "Millions of small businesses are facing the need to transition into the digital era, and we're excited to continue building the technology that makes this possible."
Goode founded GoSite in 2013 as a website design company, building web pages for small businesses. Since then, GoSite has evolved into a global platform for small businesses that traditionally operate offline.
360 Platform
GoSite serves as a 360 platform, with the ability to design and maintain website presences, respond to reviews and receive messages from customers. It includes payment features among others tools.
Its platform allows local small businesses to launch an instant website, offer online booking and perform e-commerce transactions, including payments and digital invoicing.
GoSite's software integrates with all the major consumer platforms including Yelp, Facebook, Google Maps and Alexa — essentially all platforms where consumers find local businesses in the digital world.
In addition, the software offers products like payments and invoices, making it easier for merchants to transact business online and with mobile devices.
The company charges small businesses a monthly subscription to use their tools, ranging from $50 to $250 per month depending on what the client needs.
Potential 'Unicorn' Startup
There are many players offering similar tools or platforms including Clover Go, San Diego-based SOCi, and Square. However, investors are confident GoSite is well positioned to be a category leader and potential "unicorn," in the region.
"GoSite is the rare triple threat of a great team, elegant product and market timing all coalescing. Investors don't get a lot of those opportunities but, when you do, you don't want to miss because it's how Unicorns are made,"  said Ashok Kamal, executive director of Tech Coast Angels   San Diego, which participated in GoSite's seed round.
Today, there are more than 30 million small businesses in the U.S. alone, and hundreds of millions of small businesses globally. Many are facing difficult challenges due to the coronavirus but GoSite is helping these businesses weather the storm.
Doubled Growth
So far this year, GoSite has doubled its customer base, reaching thousands of small businesses that have turned to the platform to bring their business online, said Goode.
"The opportunity has exploded throughout this year, small businesses as well as the entire world are looking to transition more towards digital and we're the platform helping small businesses do that," said Goode. "It's created a unique and an exciting opportunity for us to build the platform and help small businesses do this."
Earlier this year, the company reported bringing in multi-millions in annual revenue, but didn't disclose the amount.
Headquartered in Mission Valley, the company more than doubled its space last year to a 20,000-square-foot office. GoSite also plans to add more tech jobs in 2021, specifically within product, engineering and marketing.
Looking forward, GoSite is heads-down focused on listening to its customers' needs and using that feedback to steer future product decisions and future roadmap.
"Next year, we anticipate strong growth, we're going to continue to hire, continue to help more small businesses transition from offline to online, and continue building a rockstar team," said Goode. "We will continue being a great place to work here in San Diego and we have set a high bar for 2021 that we're really excited about."