Flock Freight Raises $113.5 Million
Sunday, December 6, 2020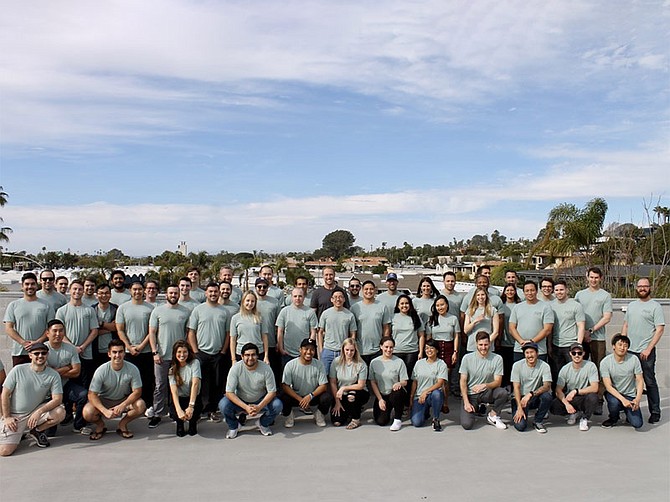 Flock Freight, a logistics technology firm focused on the trucking industry, has raised $113.5 million in Series C financing, led by SoftBank Vision Fund 2.
This is the largest investment for a San Diego-based technology startup this year. Following a sizable $92 million raised in September by Seismic, which provides sales and marketing software.
The company will use the new money to accelerate product development for its pooling technology algorithms. In addition, the company will expand its team hiring experts in operations research, applied mathematics, among other roles.
"The team has been working tirelessly to change the status quo. With this round, we're looking forward to making shared truckload the new industry standard," said Jeff Lerner, vice president of marketing at Flock Freight.
The five-year-old company based in Solana Beach, attracted larger shipping customers and quadrupled its revenue growth this year despite temporary challenges from the coronavirus  —  driving major investor interest in the local company.
Founded in 2015, Flock Freight uses algorithmic pooling technology to allow less-than-truckload (LTL) shippers to share trailer space in one full truckload. The company's platform allows for optimizing transit routes and moving multiple loads on one truck.
This gives shippers who cannot fill an entire truck an opportunity for higher quality truckload service with less damage and delay, said founder and CEO Oren Zaslansky.
In August, it became one of the first in the industry to earn B Corp certification, an environmentally friendly business designation. Flock Freight said that its shared truck solution can reduce greenhouse gas emissions by as much as 40 percent.
More Than 1,200 Customers
When the COVID-19 pandemic hit, the company modeled different scenarios to conserve money, but actually started to significantly grow as it captured more middle-market and enterprise customers.
"We've seen between 15 to 20% month-over-month revenue growth, every month since February this year. We grew contribution margin by 11% and grew gross margin by 15%. Over the same period, we grew revenue by 4x."
The company has more than 1,200 SMB customers and about 100 middle-market enterprise clients as well as large consumer brands including Blue Diamond Growers, Bimbo Bakeries, and Lennox.
Valued at $500M
The Vision Fund investment is led by managing partner Ervin Tu, who will take a board seat. Tu already has experience with freight via SoftBank's stake in Full Truck Alliance, a Chinese startup.
"Flock Freight is improving supply chain efficiency for hundreds of thousands of shippers. Our investment is intended to accelerate the company's ability to scale its business and capture a greater share of the market," said Tu.
Existing investors SignalFire, GLP Capital Partnersand Google Ventures, and new strategic partner Volvo Group Venture Capital also participated in the round.
The deal values Flock at close to $500 million post-funding valuation, according to Bloomberg. The company has raised $184 million to date.
A competitive industry, others in the space include Uber Freight, which committed another $200 million as part of a major expansion. San Francisco-based startup KeepTruckin recently secured $149 million to further develop its shipment marketplace, and Next Trucking closed a $97 million investment. Convoy also raised $400 million at a $2.75 billion valuation to make freight trucking more efficient.
Eyes IPO
Hiring aggressively, the company has grown its team from 50 to 140 over the last 12 months. The company anticipates similar growth in 2021, adding new staffers ranging from entry-level to high-paying executive positions.
In the future, Flock Freight may see acquisition interest from large technology players in the shipping sector like Amazon and Alibaba, who aim to become major players in the space.
Zaslansky said he could see a possible IPO in the company's future, potentially within the next three to five years.
"I think the public markets gives us the highest probability of fulfilling our mission of building a transformative business focused on changing the global supply chain," said Zaslansky. "We're looking for missionaries, not mercenaries to join our team. We want to hire people that want to be a part of something big. Over the next several years, we expect to build one of the largest freight transportation providers in the world."