New Coastal Homes to Incorporate a Touch of Australia
Thursday, December 3, 2020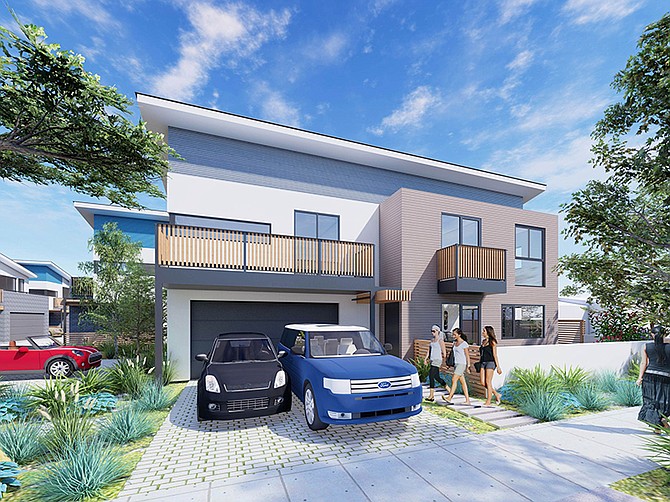 An Imperial Beach housing development will bring a touch of Australia to South County with the use of corrugated metal as part of it design
Designed by DBRDS Design Studio based in downtown San Diego, Breezeline Homes at 166 Hooley Ave. will have 15 single-family homes ranging from 1,800 square feet to 2,153 square feet.
"This is really going to stand out as unique," said Eric Wilson, developer of Breezeline.
"This is the first time that we've ever done corrugated metal on a residential structure. These buildings, I've never seen anything like it," Wilson said. "We wanted to do something that was modern but still with a coastal feel with that Australian touch of modernism."
Painted blue, the corrugated metal forms a wide distinctive band along the roofline of the homes that stands out sharply from the white stucco of the rest of the façade.
Corrugated metal is more commonly associated with industrial and commercial buildings.
Inspiration
The idea to use it on single-family homes came from Pauly De Bartolo, principal of DBRDS Design Studio.
De Bartolo is an Australian by birth and he said he wanted to bring a touch of his homeland to Breezeline.
"Corrugated metal is kind of the unwritten national material of Australia.
"It's a material that Aussies working in the U.S., we like to bring onto our projects as a little nod to our home team. It installs easily and it lasts forever. The more we can educate people about corrugated metal, the better for us."
Wilson said the project is being built on "one of the last large infill lots left" in Imperial Beach on the site of what was once an orchard/ranch.
David McCullough of McCullough Landscape Architecture designed the landscaping.
The site is 1.4 miles from the beach and half-a-mile to the Tijuana Estuary, De Bartolo said.
The Homes
The two-story homes will be priced from the mid-700,000s, Wilson said. Six of the homes have their own courtyards.
With four different floor plans, each of the homes has three bedrooms, 2.5 bathrooms, a den or spare room, a two-car garage plus one uncovered parking space and backyards.
Most also have Juliet bedroom balconies, according to the Breezeline website.
Aside from its use of corrugated metal, the style of the homes with tilted shed roofs is far from the typical Mediterranean look of many housing developments.
"Shed roofs kind of go off in different directions and really look quite dynamic," De Bartolo said. "We had studied the sun path and we wanted to maximize the amount of daytime sunlight that would reach all of the courtyards and backyard spaces. By going to the shed roofs, we were able to maximize the sunlight."
Although the homes don't come with photovoltaic solar panels, De Bartolo said "they're solar ready" and the garages have been wired for electric vehicle charging stations.
Overlooked
Wilson and De Bartolo said Imperial Beach has long been given short shrift in the past, but that's starting to change.
"If you want to have the Southern California lifestyle but you're priced out of some of the other communities, Imperial Beach is a phenomenal alternative because it provides all of the amenities of a beachside lifestyle without the expense that some of the communities have," De Bartolo said. "If people are willing to go and experience it and the city an opportunity, they're going to be very surprised. There's an awful lot more going on there than people think."
Wilson said the city is "perhaps the most overlooked value."
"It's kind of taking off but it's still under the radar."
DeBartolo said Breezeline is "an opportunity for young families to buy into Imperial Beach and make a home for themselves in this community."
"To me, the intent was to design for young families that want to have a coastal lifestyle."