Virbela Sees Record Growth for Its Virtual Worlds
Wednesday, December 2, 2020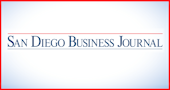 San Diego-based Virbela, a company which builds engaging virtual worlds for remote work, learning, and events, has seen record user growth and international adoption for its online platform.
Benefiting from virtual conference trends caused by the coronavirus, the company has seen roughly a 600% increase in sales since March.
It also saw an 78% increase in new user growth over the second quarter, with international markets accounting for 50% growth in the third quarter.
Virbela has quickly become the industry go-to for hosting large-scale virtual events, business conferences and online educational programs through an immersive 3D experience.
Notable clients using its platform include Stanford Graduate School of Business, the Office of Naval Research, University of California, Massachusetts Institute of Technology, Honor Foundation, and eXp Realty.
To accommodate rapid growth, the La Jolla-based company has scaled its team from 20 to 140 staffers over the last 12 months.
"This past year has brought a global surge of interest in new tools for remote work, distance learning and virtual events. People are burned out from the overload of video conferencing, and organizations are looking for solutions that recreate the community and social benefits of in-person interactions," said Alex Howland, president and co-founder of Virbela.
Remote-First Company
Virbela offers a modern, cloud-based virtual environment focused on education and team development with clients in various industries from government to retail.
Its mission is to help organizations and people thrive in a remote-first environment.
Founded in 2012, by co-founders Alex Howland and Ron Rembisz. They launched the company shortly after receiving a $1.74 million grant to explore the concept of a virtual workplace at UC San Diego.
The platform allows for an immersive video-game-like experience for employees, and it can accommodate thousands of users at once. It includes virtual campuses and offices populated by workers' avatars and available to rent for a monthly subscription rate.
The company offers an entire virtual campus that can accommodate 25,000 or more users starting at $2,500 per month.
Virtual Events
In January and February, VirBELA might have had 10 or 15 people wandering around the Open Campus. Now they're getting more than 400 a day, logged in to use the platform as a place to work.
"VirBELA provides an all-in-one virtual venue with expo halls, auditoriums, music stages, and social spaces like a soccer field and beach for attendees to explore and stay engaged," said Howland. "In this new world we live in, the future of the industry is virtual and we're honored to be able to offer so many companies the ability to host unique, personalized and memorable event experiences in the virtual worlds we build."
A number of companies are opting to set up private campuses where they can fully run a remote organization. In October, San Diego Startup Month and the Cox Business 2020 Top Tech Awards turned to Virbela for their virtual events.
"The event industry has been turned upside down. There's a lot of great options available for remote work and collaboration, however, it's incredibly hard to replicate the experience you get at an in-person event," said Ryan Costello, co-founder of Event Farm. "Virbela has built a solution that is the closest thing I've experienced to real life and yet doesn't require custom hardware or a headset."
International Play
Looking forward, the company's goal is to keep pace with global demand.
Virbela added five new languages for international customers including Brazilian Portuguese, Chinese, French, and Spanish.
It plans to add German and Japanese localization by the end of the year.
"We've grown many multiples both in terms of revenue and in user base, however, despite the acceleration of COVID we're still in kind of an early adopter model," said Howland. "We're seeing virtual worlds starting to become more of a norm for socialization and I think that trend will continue, rolling into education and enterprise."
In 2018, Virbela was acquired by eXp World Holdings for $11 million after becoming its largest customer. Based in Bellingham, eXp operates two subsidiaries ,  one is a cloud-based residential real estate business and the other is Virbela.
The publicly traded company's revenue topped $979 million last year. This year, its revenue soared. In November, eXp reported $564 million in third-quarter revenue, up nearly 100% from the same period in 2019 when it brought in $282.2 million. eXp has more than 700 employees, with only one physical location required to meet regulations.