Hera Hub Expanding Despite Pandemic
Wednesday, December 2, 2020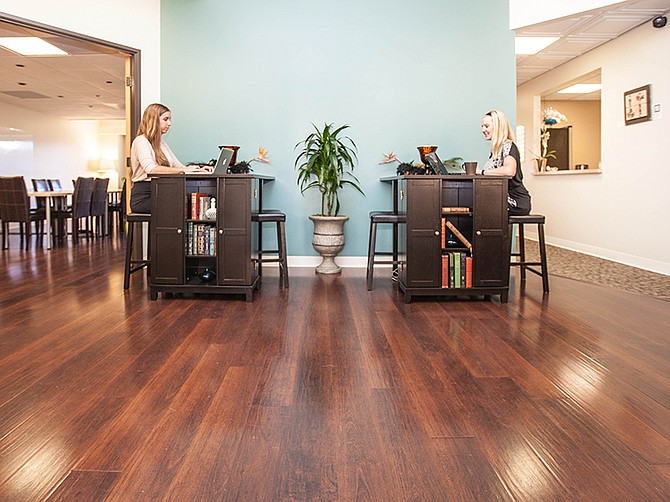 Hera Hub, a coworking company based in Sorrento Valley, is expanding amid the COVID-19 pandemic that has many real estate experts wondering how workplace offices will evolve and some coworking organizations going out of business.
"I feel confident that in 2021, we're posed to grow quite a bit," said Felena Hanson, founder of Hera Hub.
Formed in 2011 by Hanson, Hera Hub focuses on women although the company includes men in its more than 500 members in six locations including Mission Valley, Sorrento Valley, Carlsbad, Irvine, Temecula and Washington, D.C.
"We are going to be expanding to other cities in 2021," Hanson said. She declined to say how many or where they were, pending signed contracts, but she said some are in California and two are out of state.
Outlook
"I think there is a strong market ahead as we get the (COVID-19) vaccine and start to turn the corner in 2021," Hanson said. "I think companies, even large companies, will look to coworking spaces for their employees. They realize that having their employees work at home all day, every day works for some but not everybody. Coworking fills that niche of availability. That's what people are looking for."
Hanson said some bigger coworking businesses with women as the target market over-extended themselves and weren't nimble enough to respond to the downturn caused by the pandemic.
"It's kind of a slow and steady wins the race," Hanson said.
While bigger companies raised far more money, "We stayed I'd like to stay lean and mean," Hanson said. "It has allowed us to expand without having to raise millions of dollars, frankly."
COVID-19
Like others, Hera Hub saw a dramatic drop in people using its offices during the early days of the pandemic, but kept its Mission Valley and Sorrento Valley offices open for essential workers and even extended its hours to stay open 24 hours.
"The last several months have been touch-and-go a little bit," Hanson said. "Overall, through the pandemic, we've lost about 15% of our membership. In the scheme of things, we've been able to maintain most of our members."
Hera Hub has made adjustments in its operations as a result of the pandemic, including adopting protocols recommended by health officials to provide work spaces that maintain social distancing.
The firm also has expanded its online offerings.
"People have found the online, virtual community to be important, especially during these times," Hanson said.
Hanson said coworking has remained an attractive alternative to working at home with many companies closing their offices during the pandemic.
"Working from home can be challenging. It can be very distracting, especially if you have spouses and partners and children and pets." Hanson said. "It's not easy to have even a 10-minute chunk of time to actually focus. Our members come in to escape, to have a sanctuary where they can focus. For them, getting out of their home environment, even if it's for just one or two days a week for just a couple of hours. It's a life saver for them."
Others
Hanson is not the only San Diego County coworking entrepreneur to see the pandemic as an opportunity.
Developer and real estate investor Wolf Bielas in August announced that he was renovating a Carlsbad office building near Palomar Airport to include coworking space.
Bielas is managing partner of Downtown Works in Little Italy.
Like Hanson, Bielas said coworking offices people an alternative during the pandemic as they tire of working from home.