Ubiq Security Raises $6.4M in Seed Equity Round
Tuesday, December 1, 2020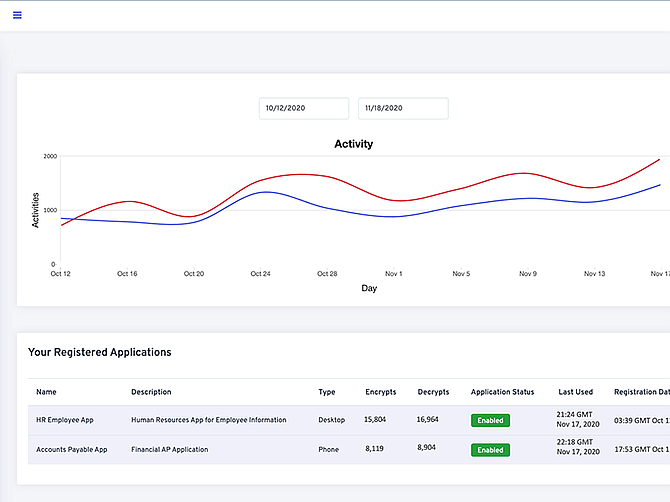 San Diego-based Ubiq Security, a cybersecurity startup working to simplify encryption, has closed a $6.4 million seed equity round.
The round was led by Okapi Venture Capital and included participation from TenOneTen Ventures, Cove Fund, DLA Piper Venture, Volta Global and Alexandria Venture Investments.
The company will use the funds to accelerate platform development, developer relations, and customer acquisition, said Wias Issa founder and CEO of Ubiq.
Founded in 2019, Ubiq's mission is to simplify encryption for developers.
Earlier this year, the company launched its API-based developer platform aimed at helping global organizations secure their data while eliminating the guesswork, complexity of cryptography and encryption.
Enabling Developers
Its API-based encryption platform provides developers the tools they need to quickly add robust encryption to their applications and easily use the services they need to manage their keys and products.
In particular, the encryption can be added to an application with a few lines of code and two calls using its application programming interface, or API.
"The software that powers today's global economy is built by some of the brightest developers in the world, whose expertise revolves around building fantastic products and experiences —generally not security and cryptography," said Issa. "Ubiq's software eliminates the costly and uphill battles for CTO's, CISOs, and compliance leaders, helping ensure the data in their products is secure."
The company's competitive advantage is that it can secure any form of data, regardless of its type or storage location, without impacting user experience or system performance.
In addition, the software can easily integrates into existing application, IoT devices, or can be installed on servers or endpoints
Working With Defense
Clients using its platform include the U.S. Army, and the U.S. Department of Homeland Security. The company is also working with Fortune 500 firms such as Verizon, Hitachi, and DLT Solutions.
Today, there is roughly 18 million active developers worldwide, the company is betting its strategy to make encryption as simple as possible will lead to significant adoption.
Ubiq is not the first to try to make adding encryption as simple as possible for developers.
StrongSalt, a security firm also debuted its own encryption-as-a-service platform focused on making encryption easy for developers to incorporate into their applications.
Building in San Diego
Looking forward, the startup will be focused on customer validation and user growth. The goal is to have several thousand developers actively using our platform, said Issa.
The company also may close another round of financing within the next six to nine months.
"By the end of 2021 and moving in 2022, we're going to put the foot on the gas as we acquire more customers," said Issa. "We've already started to get interest from Blue Chip investors, top VC firms, as well as corporate investment arms at large technology companies. People are starting to appreciate the problem set."