Otonomy Moves Forward With Clinical Trials
Monday, August 31, 2020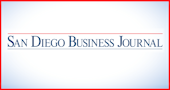 San Diego-based Otonomy, a biotech developing therapies for middle and inner ear disorders, has seen positive topline Phase 1/2 clinical trial results for OTO-313 for the treatment of tinnitus.
This year is expected to be transformative for the company with three clinical trial readouts, including a Phase 3 trial in Meniere's disease. Otonomy has built a broad product pipeline addressing the largest market opportunities in neurotology.
"We are excited to announce these positive clinical results for OTO-313 and to advance this potential treatment for patients suffering from the high burden of persistent tinnitus," said David Weber, president and CEO of Otonomy.
High Demand
Roughly 30 million people in the U.S. experience tinnitus, and for 8 million the ringing is severe enough that it impacts their ability to sleep, relax, and concentrate at work. In these cases, anxiety and depression are common. Although for patients, there are no FDA-approved tinnitus drug treatments currently available.
One of the first signs is difficulty understanding a conversation in a noisy environment. Researchers call this "speech-in-noise" hearing difficulty and have demonstrated that it is due to damaged neuronal connections in the ear.
To address this need, Otonomy is developing OTO-413 with results from a Phase 1/2 trial expected in the fourth quarter of 2020.
Promising Results
Kenneth Maxwell, M.D., a neurotologist at Piedmont Ear Nose and Throat Associates said he was encouraged by the treatment response observed with OTO-313 in this clinical trial.
"Tinnitus is a common problem that affects millions of people around the world which can negatively impact sleep and relaxation, disrupt the ability to focus at work and at home, create feelings of distress and anxiety, and lower overall quality of life," said Maxwell. "I am very encouraged by the treatment response observed with OTO-313 in this trial as well as the consistency of the improvement for OTO-313 responders across all four tinnitus endpoints examined in this trial."
Otonomy has said its portfolio of ear disease treatments, which also includes a candidate for tinnitus, could eventually net $1 billion in annual sales.
Weber said if trials are successful, the company plans to recruit a 80-person sales force to market its treatment. The company has also said it plans to look for a partner to commercialize the drug overseas.
Otonomy was founded in 2008 by San Diego's Avalon Ventures, which specializes in life science investment. The founders are Avalon partner Jay Lichter and Dr. Jeffrey Harris, division chief of otolaryngology at UC San Diego Health System.
A publicly traded company, Otonomy (NASDAQ: OTIC) pulled off a $100 million Wall Street debut back in 2014. Headquartered in UTC, the company employs roughly 50 local staffers.
"Our three clinical milestones in 2020 provide a transformational opportunity for Otonomy and will, we hope, serve as an important inflection point for the emergence of this exciting new field," said Weber.