Battery Maker Flux Power Gains $11.4M in Stock Offering
Monday, August 31, 2020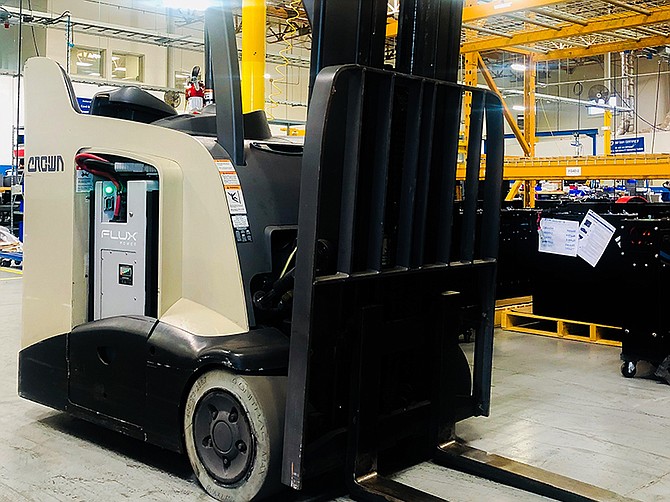 Flux Power, the Vista-based business that produces batteries for small industrial vehicles, raised $11.4 million in a follow-on stock offering in mid-August, after expenses. Some $12.4 million in shares were sold.
The business also announced its stock was up listed to the Nasdaq, effective Aug. 14. Previously its shares traded over the counter.
Flux (Nasdaq: FLUX) specializes in lithium ion batteries for forklifts, similar industrial equipment, airport service tractors and other small vehicles. It seeks to catch industry interest in electric vehicles and a growing preference for lithium ion battery chemistry over traditional lead acid batteries.
The business is growing and has attracted interest among Fortune 500 companies, said CEO Ron Dutt. PepsiCo (Nasdaq: PEP) is the business' largest customer.
3.1M Shares Sold
Roth Capital Partners and National Securities Corp., a wholly owned subsidiary of National Holdings Corp. (Nasdaq: NHLD), acted as the joint book-running managers for the recent follow-on offering. Buyers included a dozen institutional funds, Dutt said.
The offering put approximately 3.1 million shares at $4 per share on the market. Expenses of the offering were deducted from those gross proceeds. Flux Power plans to use the $11.4 million it collected for working capital and general corporate purposes.
"It's really to support this growth we have," said Dutt.
The underwriters used their full over-allotment option to purchase additional shares.
Flux Power reported record revenue of $5.1 million in the quarter ending March 31, up 188% from revenue of $1.8 million in the same quarter one year ago. The quarter's revenue reflected strong growth from the rollout of a full product line of battery packs for forklifts, along with increased unit volume and a higher percentage of larger packs.
Cost of sales for the most recent March 31 quarter was $4.4 million, leaving gross profit of $649,000. Operating expenses came to $4.1 million, with $1.5 million spent on research and development, and $2.6 million on selling, general and administrative expenses. Net loss for the quarter was slightly less than $4 million.
Flux has not yet released financial results for its quarter ending June 30, which is also the end of its fiscal year.
The company held a 1-for-10 reverse split of its common stock and preferred stock in July 2019.
As of March 31, Flux Power had accumulated a deficit of approximately $50.2 million, up from $39.1 million at March 31, 2019, according to a securities filing. The total stockholders' deficit as of March 31, 2020 was $12.8 million.
Dutt said the deficit picture had changed, and that the company's recent Nasdaq listing required positive stockholders' equity of at least $5 million.
In addition to raising $11.4 through new stock, the business was able to convert $8 million of debt to equity in June and July, Dutt said. It also conducted a $4.5 million private placement a couple of months ago.
The CEO said he expects the company to break even on cash flow next year.
Bigger Facility
Flux moved to a 60,000 square foot facility in June 2019 to accommodate growth. One year later it expanded operations by occupying 23,000 additional square feet of space. The move doubled room for production. Flux's production lines incorporate the lean six sigma philosophy.
Separately, the business received a $1.3 million Paycheck Protection Program loan on May 4 through the U.S. Small Business Administration. The company plans to ask for forgiveness of the principal and interest under the loan.
Earlier this month, Flux announced it will supply batteries to Clark Material Handling Co., a top 10 global manufacturer of forklift trucks and spare parts. Flux will provide lithium-ion battery packs for sit-down riders, narrow aisle vehicles, end riders, center riders and "walkie" pallet jacks.
Some 80 percent of business is on forklift trucks, and 20 is on airport ground service vehicles, a spokesman said.
Though they carry a higher price tag, lithium ion batteries have several advantages over lead-acid batteries, increasing productivity and decreasing cost of ownership, Dutt said. And they are environmentally friendlier, which is "icing on the cake."
"We love the fact we are part of the electrification wave that's sweeping the landscape," the CEO said.