Business Grants
Sunday, August 30, 2020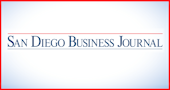 Cities in San Diego County have been allocating money for small business grants made possible through the Federal CARES funds released by San Diego County and California. The grants have been open to both non-essential and essential businesses as well as restaurants.
The city of El Cajon announced this past week it has awarded nearly $2.5 million in grants to 134 small businesses in the city. Small business owners were eligible for various award amounts with maximums ranging from $10,000 for restaurants, $15,000 for essential businesses and up to $30,000 for non-essential businesses which were forced to fully close when the stay-at-home orders took effect in March.
"The impact of this grant will provide an economic stimulus to support local small businesses which have suffered the greatest due to the pandemic," said City Manager Graham Mitchell.
Assisting in selecting the recipients was a business grant committee made up of business and community leaders in the city. All businesses selected were required to meet a minimum qualification determined by the El Cajon city council.
+++
On Aug. 18, the San Diego Padres and Petco Park were named recipients of a Support Anti-Terrorism by Fostering Effective Technologies (SAFETY) Act designation by the U.S. Department of Homeland Security. The SAFETY Act was enacted by Congress in 2002 and serves as one of the highest levels of accreditation offered by Homeland. It promotes the development and deployment of effective anti-terrorism measures that include technologies, services, and employee training.
"With various events held throughout the year at Petco Park, we take pride in ensuring that our guests feel safe and comfortable while inside our ballpark," said Mark Guglielmo, Padres senior vice president of ballpark operations/general manager Petco Park.
To get the SAFETY Act designation, the club refined and developed a comprehensive security program consisting of physical and electronic anti-terrorism security measures, tools, policies, procedures, and training.
"We are honored and appreciative that they have recognized our ongoing efforts to maintain the safest environment possible," Guglielmo said.
+++
The well-known Carlsbad-based sports memorabilia company Upper Deck, has announced it is launching a campaign where individuals and businesses can support golfer Tiger Woods' TGR Foundation, to help its mission to help students pursue their passions through education by purchasing authentic autographed memorabilia from Upper Deck's Tiger Woods Collection.
According to Upper Deck, the TGR Foundation has been a pioneer in positive youth development and support for more than 20 years. The organization has reached more than 1 million youth, teachers and families throughout the world. Through Sept. 8, Upper Deck is donating 25% of all Tiger Woods memorabilia purchases to the foundation made using the special code TGR on its website UpperDeckStore.com