Puesto Owners Sign Lease for Former Whisknladle
Wednesday, August 26, 2020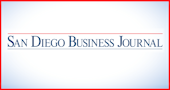 The owners of Puesto Mexican Artisan Kitchen & Bar are expanding.
Alex Adler, along with brothers Eric and Alan and cousins Isodoro and Moy Lombrozo, signed the lease for the former Whisknladle space in La Jolla Village, located next door to the original Puesto location. The family will be converting the space into a new concept, Marisi Italiano, scheduled to open early 2021.
Named after their grandparents, Isodoro and Marila, Marisi will be led by Executive Chef Patrick Money (Cesarina, Cucina Enoteca, Smoking Goat). Puesto's Culinary Director, Erik Aronow, will consult on the bread and pastry program and Beau du Bois, Puesto's bar and spirits creative director, will lead the bar program.
"Marisi gives us an opportunity to explore a culinary passion we've long held and bring it to La Jolla," said Eric Adler, co-founder.
The Puesto team recently opened its $8 million Mission Valley location and is continuing construction on two more Orange County restaurants.
Travel & Hospitality reporter Mariel Concepcion can be reached at mconcepcion@sdbj.com or 858-634-4625.