Hyatt's Alila Marea Beach Resort Comes to Encinitas
Wednesday, August 26, 2020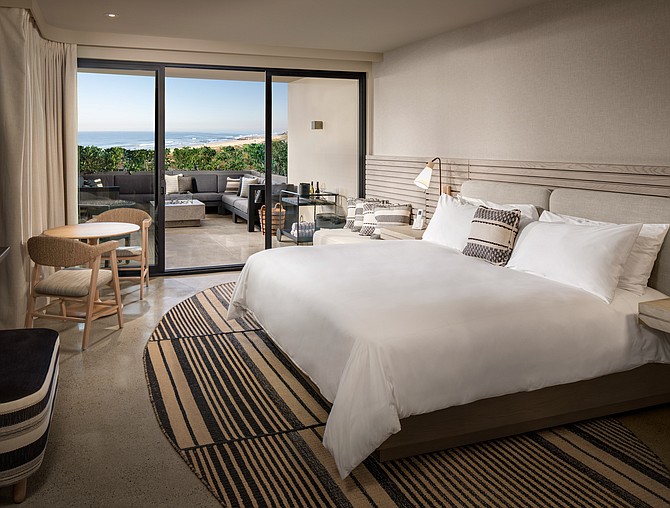 Encinitas will soon become home to Hyatt Hotels Corp.'s Alila Marea Beach Resort Encinitas, slated to open January 2021.
The $110 million, 130-guest room hotel, with 16 additional suites, marks the brand's first stateside build and the second Alila property in the U.S.
The North County community marked the right location for the North American expansion of Alila, which has a presence in Indonesia, Malaysia, India and China, because of its surf and beach vibes, according to the company.
Terrific Match
"Alila Marea Encinitas is really a starting point for continued growth for the company," said Bob Harter, director of sales and marketing. "The pillars of this brand are to truly be authentic and passionate, deliver service from the heart and soul and embrace the vibrancy of each location as well as be responsible from a sustainability standpoint. For these reasons, Encinitas felt like a terrific match for this location."
The oceanfront hotel, situated along coastal bluffs and overlooking Grandview and South Ponto Beaches, will offer an ocean-view restaurant with rooftop patio, a pool with pool bar and hot tub, Spa Alila and an events venue. San Diego-based Chef Claudette Zepeda, a James Beard Awards semifinalist and "Top Chef" contestant, has been hired to lead all culinary efforts at the resort.
Sustainability Efforts
In staying true to its new beachfront home, Alila Marea Beach Resort Encinitas has teamed up with Encinitas-based Electra Bicycle Co., which will provide guests with all biking options, as well as Lofty Coffee Co. Lofty will not only be available at the Alila Marea café, the Coffee Box, but also in the guest rooms in a steeped coffee format, Harter said, to eliminate the use of plastic pods as part of the brand's sustainability efforts.
Alila will also offer surf camps, said Harter, and has teamed up with surfer and environmentalist Rob Machado and his Rob Machado Foundation to help reduce the use of single use water bottles onsite. In offering a green solution, Harter said the hotel has placed water stations throughout the property for refilling purposes.
Elsewhere, as part of Alila's responsible tourism approach, the Encinitas location will also use solar panels to generate 100% of the hotel's hot water supply, he said. Additionally, designed by San Diego-based Joseph Wong Design Associates, Alila Marea Beach Resort Encinitas used natural materials and native plants to recreate the Southern California lifestyle, according to the company.