Bumble Bee Wants Consumers to Rethink Shelf Stable Tuna
Originally published August 25, 2020 at 2:45 p.m., updated August 26, 2020 at 8:35 a.m.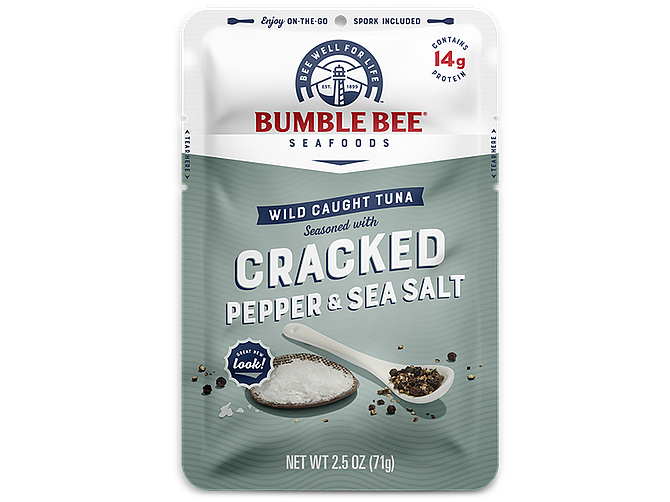 Bumble Bee Seafood Company, the $1 billion shelf-stable seafood business founded in 1889 and headquartered in Petco Park, wants consumers to reconsider the way it views shelf-stable tuna.
With the help of a multi-million-dollar advertising campaign, created by Los Angeles-based firm The Many, Bumble Bee is getting the message across that its traditionally canned tuna shouldn't be a culinary afterthought. In fact, it is high in protein, low in fat and high in omegas, it is portable and affordable and can translate well within many different cultures and subgroups.
Lean Protein
"We know, based on consumer data and insights, that shelf stable seafood is a very convenient, affordable lean protein. So, a product that at its core is very beneficial to a wide variety of consumers," said Todd Putman, executive vice president and chief growth officer. "Over the years, the Bumble Bee Seafood Co. product had lost its luster, it hasn't been as innovative and hadn't done a lot of marketing campaigns. What we decided to do is encourage and inspire consumers to rethink how they think about tuna."
To do so, Bumble Bee tapped The Many for its first high-level marketing push in years, he said, and created the "Yes! Bumble Bee!" advertising campaign, which centers around revealing tuna's benefits in different ways. The ad poses questions like, "tuna as a source of protein to fuel your workout?" And, "Tuna as the ultimate fast food?" To which it answers, "Yes! Bumble Bee!"
Four Spots
Shot virtually in Australia, the series of four spots positions Bumble Bee tuna as a protein-rich food source. The first two ads, "Get Your Melt On" and "What Fuels You?," aired Aug. 19 in six markets across the country, said Putman, including Los Angeles, Miami, Tampa, Boston, New York and Baltimore. The remaining two are scheduled for a September release, with plans to expand to other markets in 2021.
Digital and social media, including Instagram and Twitter influencer executions, will be national, he said.
The target market is younger consumers, particularly millennials who are already familiar with the category, while drawing in other consumers, said Putman.
"The category shelf-stable tuna is in 60% to 70% of U.S. households, which is a ton of homes," he said. "We believe the creativity that has been put into Bumble Bee's marketing the last 10 years has been a little laxed. The product has all these benefits, we just needed to talk to people in a contemporary, creative and fun way."
Added Damien Eley, executive creative director and founding partner at The Many: "You can't just tell someone that tuna is great, you have to force them to re-appraise it. That's what we really focused on. And that wasn't much more complicated than isolating the awesome benefits of Bumble Bee tuna, benefits that people may not have known or have at least thought about for a while, and then finding the most unexpected ways in which we could deliver that."
For example, the "What Fuels You" spot positions Bumble Bee tuna as the go-to protein in a sports performance setting, while the "Get Your Melt On" clip seemingly pokes fun at typical fast-food commercials while utilizing a can of Bumble Bee tuna to create the final product.
Revamp the Brand
Jan Tharp, CEO of Bumble Bee Seafood Co., said what consumers are seeing now is the fruit of a very intentional shift started nearly two years ago to revamp the brand and better meet ever-changing consumer needs.
"Over the past (24) months or so, we've been actively talking about writing the future chapters of Bumble Bee," she said. "We reestablished our culture, our values, our go-to market strategy and what we want to be. Historically, we've been looked at as a commodity shelf-stable seafood company with an immense history to draw from. But what we want to do is pivot into a company that has more consumer relevance and hits on consumer trends of snacking."