Ligand Inks $516M Deal
Monday, August 24, 2020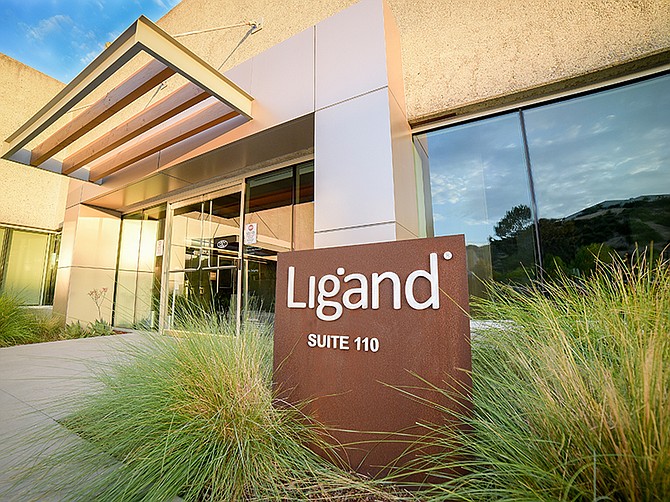 Ligand Pharmaceuticals Inc. announced plans to buy another San Diego pharmaceutical firm, Pfenex Inc., in a deal that could ultimately be worth $516 million if Pfenex hits a regulatory milestone by the end of 2021.
Sorrento Valley-based Ligand (Nasdaq: LGND) announced on Aug. 10 that it signed a definitive agreement to acquire Pfenex (NYSE: PFNX) for $12 a share, or $438 million. Ligand plans to pay cash. The deal is expected to close in the fourth quarter.
Ligand is offering to buy the stock at a 57% premium over the closing price of Pfenex stock on Aug. 10, which was $7.66 per share.
"We are confident we will be able to quickly and efficiently grow the Pfenex business, along with our core existing technologies," Ligand CEO John Higgins said in a statement.
Ligand CFO Matt Korenberg said Pfenex was a good fit for Ligand as the two firms have similar business models. Going forward, Korenberg said, Ligand plans to pursue the twin goals of developing medicines for those who need them as well as generating cash flow and earnings for investors.
Expression Technology
Pfenex (pronounced like "phoenix," the mythical bird) is a development and licensing biotechnology company. At the center of its business is its proprietary Pfenex Expression Technology. According to the companies, the technology offers a robust, validated, cost-effective and scalable approach to recombinant protein production. The technology is particularly well-suited for complex, large-scale production of proteins that cannot be made using more traditional systems. Pfenex has 88 employees, 24 U.S. patents, 16 active partnerships and 10 products available for partnering.
Ligand develops and acquires companies that help pharmaceutical companies discover and develop medicines. Royalties and license fees make up a large part of Ligand's revenue.
Ligand said Pfenex should start producing earnings for the company beginning in 2021. The buyer forecasted 10 to 30 cents per share in 2021, 60 to 80 cents per share in 2022 and $1.25 to $1.50 per share in 2023. Ligand promised more detailed guidance once the transaction has closed.
Cash for M and A
At the end of 2019, Ligand reported net income of $629.3 million on revenue of $120.3 million. Net income was so much larger than revenue because Ligand sold its Promacta assets for $827 million, or $640 million after taxes. Ligand's accountants opted count the proceeds of the sale as a gain rather than as revenue.
"That transaction was transformative for Ligand and provided significant cash for M&A activities and share repurchases," Higgins told shareholders in February. In the 18 months prior, he said at the time, Ligand has bought back close to 25% of its outstanding shares, thus increasing its stock price.
Promacta is a drug to treat a bleeding disorder known as chronic ITP, or immune thrombocytopenia. Ligand sold the asset for the total future royalty fees.
William Blair & Co. LLC served as Pfenex's exclusive financial adviser during the acquisition. Wilson Sonsini Goodrich & Rosati served as Pfenex's legal counsel. Barclays Capital Inc. served as Ligand's exclusive financial adviser. Latham & Watkins LLP served as Ligand's legal counsel.