RMD Group Opens Second Rooftop Restaurant
Sunday, August 23, 2020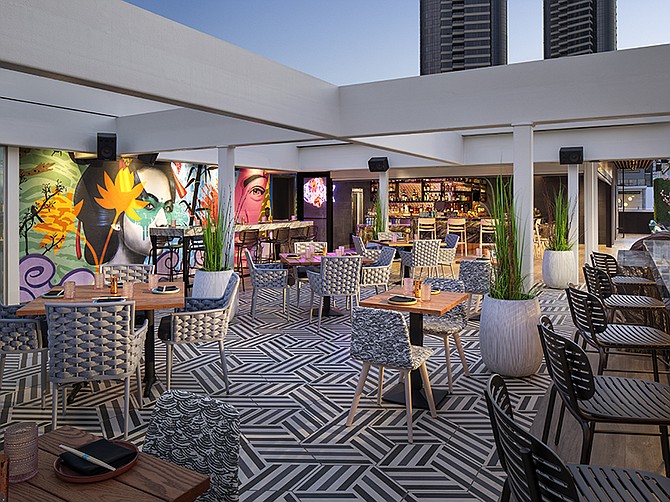 Five years ago, RMD Group opened its first roof restaurant in the Gaslamp Quarters, Rustic Root.
According to RMD partner and chairman, Michael Georgopoulos, it was the first free-standing rooftop food and beverage place in the vibrant district; all others that existed before were housed within hotels, he said.
"At the time, I thought that was crazy," said Boston native Georgopoulos. "I'd been to Chicago and other cities that don't have the climate we do, and they are littered with rooftops with only a quarter of the season."
Rustic Root closed in March and reopened in June due the coronavirus pandemic.
Experiential Economy
A few weeks ago, the downtown-headquartered hospitality group opened its second rooftop, Lumi by Akira Back, also in the Gaslamp Quarter. RMD also manages Float, the rooftop venue at the Hard Rock Hotel on Fifth Ave., which closed in March and reopened in July.
For Georgopoulos, the stratagem behind opening Lumi amid lockdown is twofold. In the era of experiential economy, elevated outdoor spaces have an extra draw when compared to just food and drinks in a room. Due to COVID-19, the restaurateur believes the trend will become even more widespread, as more guests will want to dine al fresco as much as possible – even after the virus clears.
A Leg Up
"Rooftops 100% have a leg up during COVID and beyond," said Georgopoulos, who owns and/or operates eight venues in San Diego, four of which are currently open to some capacity, three of which are rooftops. That includes Huntress steakhouse located downtown, Rustic Root, Lumi and Float. Huntress was originally scheduled to open in March, he said, but COVID pushed the opening to July.
"The perfect example is Huntress and Lumi. Huntress is very fortunate, thanks to Robert Green Company and Clique Hospitality, to have the use of the former Dick's Last Resort patio space adjacent to our dining room, but it's not the multi-million-dollar restaurant we built. Lumi, on the other hand, is a rooftop and allowed to be open as it was built, the guest experience is better and we don't have to rent furniture and burn lots of labor setting up each night as we do at Dick's."
Typically, rooftops at Gaslamp made $600 to $800 per square foot in revenue pre-COVID, he said, and that's because people want to be outside. That desire to be outdoors has been heightened because of the pandemic, said Georgopoulos, which will create amplified appreciation for the city's rooftop spaces.
30% in Sales
Out of 140 seats, Lumi is utilizing 100 for the sake of social distancing, said Georgopoulos, adding that sales are roughly 30% of what was originally forecasted pre-COVID, largely due to the 10 p.m. curfew and inability to host private events. Yet, so far this year, thanks in part to the opening of the rooftop, revenue is at $5 million, he said.
"We are happy with the revenue (generated) from the day events we have had," Georgopoulos said. "We have been selling out in advance of each day."
In 2019, RMD's revenue was $30 million and projected revenue for 2020 was expected to be $45 million.
Bright Spot
Georgopoulos said one bright spot for the company has been the amount of locals RMD has been able to reach during the crisis; opening both Huntress and Lumi this summer has allowed the company to forge new relationships with San Diegans instead of just convention attendees and tourists, he said.
Malia Emprom, general manager at Topside Terrace Kitchen and Bar, a rooftop restaurant in downtown's Hotel Republic, said rooftops can provide a more authentic outdoor dining experience than makeshifts created in response to COVID.
"Just like RMD has experienced the leisure guests coming into the area for conventions, we have a dependence on hotel guests to frequent our restaurant," she said. "Now, closer to 70% of the restaurant's guests are locals as opposed to guests from the hotel. And, when we talk to folks, they tell us they are seeking out outdoor venues and willing to drive for it. The restaurants that have outdoor rooftop venues are much more attractive in order for patrons to have the full experience, rather than go to a restaurant that is operating out of a parking lot, although that is fine as well.  We see a lot of locals that maybe would not have thought about making the drive, from North park and Mission Valley, visiting us now."
Colder Months
While other operators may be uneasy about what lies ahead, Georgopoulos said Lumi, just like Rustic Root, is already set up for the upcoming fall and winter season. He said both have retractable roofs and ample amounts of heaters which should allow them to continue to function effectively through the colder months.
Temperature changes aside, Georgopoulos' belief is the city is ready to up its rooftop game.
"We really need to embrace outdoor dining, lean into it," he said, "and find a way to keep it going after the fact, not just for the public's health, but for the economy and also for all beauty it has to offer."