Kaiser Permanente Opens Next Generation Medical Building in Clairemont Mesa
Sunday, August 23, 2020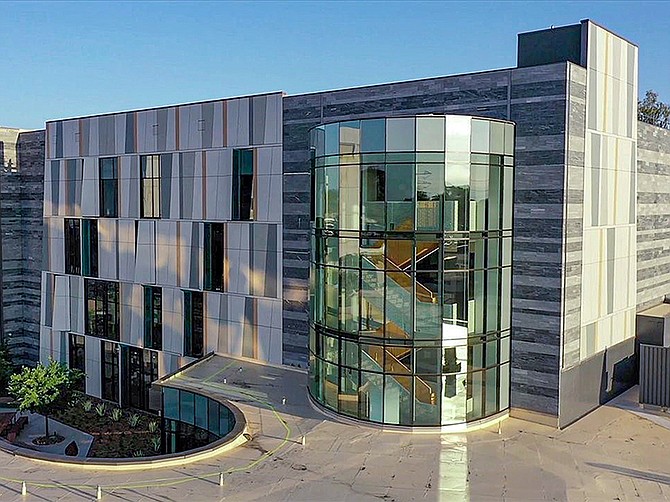 Kaiser Permanente wanted to make a statement with its newly opened medical building in Clairemont Mesa – that the high tech of modern medicine doesn't have to be scary or cold and sterile.
"We really want members to have a good, positive experience. We want when they walk into the building to feel calm and refreshed and not feel nervous or worried," said Beth Aguirre, Kaiser Permanente senior project manager.
"We want people to walk in and feel calm and relaxed, like they're in this really great, healthy environment," Aguirre said. "We didn't want to put up a plain, square building that didn't fit well with the community."
Next Gen
The new 90,000 square-foot building at 6911 Convoy Court replaces a 42-year old structure on the seven-acre site that will be demolished over the next year.
Kaiser Permanente won't say how much the new medical building cost, but the Clairemont building is the first of what Kaiser Permanente calls its Next Gen office buildings in San Diego County to offer primary care, said Marie-Aline Zappia-Kuzmack, chief administrative officer for Kaiser Permanente San Diego.
Designed by Architects Hanna Gabriel Wells, the campus has "almost a boulevard of trees" leading up to the building from the entrance on Copley Court, said Sean Chen, a partner with Hanna Gabriel Wells.
Kaiser Permanente at one point considered redoing the old building.
"Ultimately, we came to the conclusion that replacing the former building with this state of the art facility was the way to go," Zappia-Kuzmack said.
In keeping with its calming theme, the new building has "vibrant colors, not crazy colors, but spring and summer colors," Aguirre said.
There's a lot of glass to let in natural light.
Kaiser Permanente also built a garden right in the middle of the 6,000 square-foot lobby, which it calls a public square, and added walking paths throughout the campus to encourage members to stroll or relax outside while waiting for an appointment.
With a glass ceiling, the garden opens into the sky and garden foliage was selected so that something would be in bloom throughout the year, Zappia-Kuzmack said.
"This beautiful garden becomes the focal point when you come in," Chen said.
Checking In
The public square is where people check in for their appointments, but like everything else in the building, check-in procedures are far from conventional.
"When you walk in the building, you're greeted by a service rep who comes to you," Zappia-Kuzmack said.
The reps can check in patients and there are several self-service check-in kiosks in the public square
Large-screen monitors – Kaiser Permanente calls them dashboards - are mounted throughout the public square so patients can see how long they'll have to wait and where to go, much as airline passengers can check for flight information at the airport.
"Members can see the time for their specific visit when they arrive," Zappia-Kuzmack said.
There's even a screen facing the outside for those who prefer to wait in the fresh air.
Large screen monitors inside exam rooms also allow doctors to share information, like X-rays or medical histories with patients.
The building has a café, a pharmacy and 72 offices and 102 high-tech exam rooms for a variety of services including primary care, pediatrics, radiology and optometry. It's expected to serve about 55,000 members, Zappia-Kuzmack said.
A striking feature on the north side of the building is a glass enclosed, circular yellow staircase meant to resemble a yellow ribbon.
"It's really, really fun to look at," Chen said.
Building It
The construction of the building was a bit different because it used prefabricated panels for the interior and exterior walls made in Phoenix and prefabricated carbon steel columns made in Hayward in the San Francisco Bay Area, said Carlos Crabtree, project manager for DPR Construction.
DPR was the general contractor.
Using prefabricated sections sped up the time it took to build the medical office building.
"It's not a trivial effort but you reap the benefits of being very efficient," Crabtree said.
An unexpected benefit was that four kittens and their mother were found inside one of the prefabricated steel columns. They were adopted.
"There was a whole family," Crabtree said.
Although the final work was done just as COVID-19 hit, the pandemic caused no real problems in construction.
"The project was very resilient in adjusting to the new COVID protocols," Crabtree said. "We were able to not miss a beat and meet all the deadlines to make sure Kaiser Permanente was able to start seeing patients on July 13."
Aguirre said the design of the building with its emphasis on open spaces, fresh air circulation and outdoor connections "has made it relatively easy for us to convert to the current times."
Among other things, the building has computer controlled windows that open and close automatically, depending on the weather, to allow for the natural flow of air.
"Every floor has operable windows that bring fresh air into the building," Chen said.
The building is designed to be LEED gold certified for its energy efficiency.
"We put a lot of emphasis on being environmentally friendly and efficient," Aguirre said.