Family Fun Centers Return to San Diego
Sunday, August 23, 2020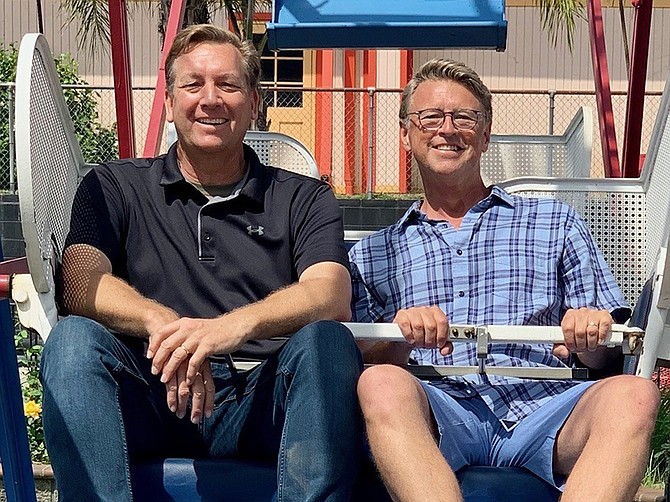 Family Fun Centers, the indoor/outdoor amusement parks company started by twin brothers John Huish and Jim Huish in 1974, is making a return to its old stomping grounds.
Scott Huish and Shane Huish, sons of John Huish, are taking over the remaining two San Diego locations that in 1995 were leased out to Boomers!. Its parent company Apex Parks Group filed for bankruptcy in April. The Huish family remained the owners of the land all these years, said Shane Huish, co-owner and head of development and marketing at Huish Family Fun Centers, the umbrella corporation, and has opted to reclaim it.
The plan, he said, is to first restore the San Diego Family Fun Center, located in Kearny Mesa, and reopen the outdoor portion of it next month. Once that space is up and running, with the expectation the location will eventually reach at least $1.5 million in revenue annually, Shane Huish said he and his brother will discuss how to proceed with the El Cajon location.
2020 Standards
"We are in over $1 million right now in renovations at the San Diego Family Fun Center," said Huish, whose father, in his 80s, is also involved in the restoration process. "We want to bring that park to 2020 standards. That means we need to tear down existing buildings, the batting cage and make it a state-of-the-art, indoor/outdoor entertainment center."
To start, the entire building has been gutted, including all walls, ceiling and floors, Huish said, and will get a fresh paint job and new carpeting. The miniature golf course is being rebuilt, all water features are being restored and the entire space will get new lighting throughout. Additionally, a whole new fleet of boat cars and bumper boats have been purchased and will replace the existing ones, he said.
"There is still a lot of 1974 left in that building," he said, "and we need to bring it up to standards and in accordance with today's expectations."
Rebranding
To bring it all together, Huish said the location will also undergo a major rebranding, which will include the use of the company's Bullwinkle and Rocky cartoon characters.
As part of the long-term, multi-year overhaul of the park, Huish said San Diego Family Fun Center will include a new event space, a bowling alley and a revamped and upscale food and beverage menu. Eventually, he hopes to introduce family-friendly activities that will include a movie night held at the batting cage, which stands on a large, sloped piece of land.
As for the other two Southern California locations that were left behind as a result of the Boomers! bankruptcy, Fountain Valley and Upland, Huish said he and his family have determined they will most likely sell the former and are still figuring out what will happen with the latter. The Vista Boomers! was previously sold to another owner and is not included.
Rezoned and Redeveloped
"The city of Fountain Valley, mandated by the state, needs more housing in the area as there really is not a lot of unused land left there. So, our property has been on their radar for a long time," he said. "Now that the parks are back with us, we have the freedom to do what we want with the land. When it was under Boomers!'s control, part of the lease was that they controlled the use until the year 2033. With them getting out of the lease, lots of developers are showing interest in the property. That park will most likely be rezoned and redeveloped."
Miro Copic, marketing professor at San Diego State University, said profitability will help determine whether or not the El Cajon and Upland locations are worth reopening and operating or selling.
"It is smart of them to test one out as things are able to open back up before deciding to rebrand the other locations – that is a proven approach," he said. "Plus, they own the land and the building, and, if there is no mortgage, then, one operation might be able to pay all the base expenses. That will allow them to maintain other operations until they can decide what to do with the rest and be more thoughtful about the direction they choose to go in."
Cowabunga Bay
After leasing out the Family Fun Centers locations to Boomers! in 1995, the Huish Family launched Cowabunga Bay Water Park in 2009, with locations in Draper, Utah, and Las Vegas, Nevada. Shane Huish said the parks welcome over 500,000 guests per summer and will remain an integral part of the family business.
The Huish family also owns and operates other Family Fun Centers in Portland, Oregon and Seattle, Washington. But he can't hide his enthusiasm about returning the San Diego Family Fun Center to its glory days.
"I have been really surprised and ecstatic about comments on our Facebook page, from people saying they are so glad we are coming back," he said. "We still have a good reputation in the area, which is nice to know, because my family knows nothing else but to provide family entertainment."
The San Diego Family Fun Center will be open from Thursday to Monday, with roughly 25 employees to start.