Discussing Impacts
Sunday, August 23, 2020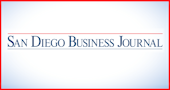 The North San Diego County Association of Realtors will be sponsoring a free webinar open to all homeowners, business owners, property owners and real estate agents regarding the proposed "Split Roll" Proposition 15 tax initiative. The webinar will focus on the negative impact the tax initiative could have on the housing market, economy, 'and communities in San Diego County. The online event will be held from 11 a.m. to noon on Tuesday, Aug. 25.
Howard Jarvis Taxpayers Association President Jon Coupal will lead the discussion on how the initiative will alter Proposition 13 protections.
The event is free, but registration is still required at www.nsdcar-register.com.
+++
The global independent credit rating organization, Fitch Global Ratings, has affirmed an AA+ rating with a stable outlook for the Helix Water District. According to the district, this rating is the second highest credit rating an agency can receive and is a key criteria investors use to determine interest rates for financing.
"We are very pleased to have an AA+ rating from Fitch," said Director of Administrative services Jennifer Bryant. "This action, coming amid a pandemic and tremendous economic uncertainty, speaks to the strength of our organization."
Helix Water District is a not-for-profit local government agency that provides water treatment and distribution for residents and businesses in the East County cities of El Cajon, La Mesa, Lemon Grove and the communities of Spring Valley and areas of Lakeside.
+++
The Ambassadors Foundation of the Greater San Diego Association of Realtors collected $10,000 in donations to assist service members impacted by the recent fire onboard the amphibious assault ship USS Bonhomme Richard.
The ship has a crew of approximately 1,000, which includes 80 service members who reside full time on the ship. It was docked at Naval Base San Diego when fire broke out on Sunday, July 12. Members of the San Diego Association of Realtors donated just over $5,000 and the foundation contributed the additional funds to bring the total to $10,000. The foundation will be purchasing gift cards for the service members who were impacted to help them replace lost personal items.
"What a blessing it is that the real estate community has stepped up to help the men and women serving our country," said Carla Farley, president of the Ambassadors Foundation Board and 2020 SDAR president. "San Diego has always been a haven for the military and its veterans, and I'm proud that the Ambassadors Foundation includes them in its mission to help strengthen communities."
The Ambassadors Foundation is a non-profit organization established by the SDAR to benefit those in need throughout the San Diego region.