2020 CFO of the Year Awards: Matt Abernethy
Sunday, August 23, 2020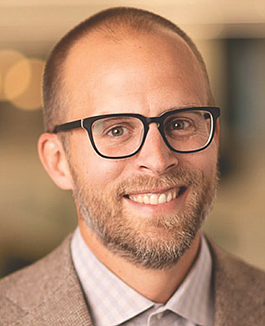 Matt Abernethy joined Neurocrine Biosciences in late 2017. In the time since, he has played a significant part in the pharmaceutical company's growth story. Neurocrine has grown its market capitalization and its shareholder value, as well as the number of its employees. In the last two-plus years, the company expanded drug development programs and worked to commercialize its products. Abernethy has been instrumental in leading the corporate financial planning and strategy of the company and maintaining a strong financial position. Most notably, he succeeded in more than quadrupling Neurocrine's net income from $70 million in 2018 to $284 million in 2019 (the figures are non-GAAP — that is, outside of the standards that accountants andregulators call generally accepted accounting principles).
Making a Difference
"I feel honored to receive this recognition," Abernethy said, "but the award is really a reflection of having a great team and a company allowing finance a seat at the table to impact the entire business. Being CFO at Neurocrine is such a blessing and I feel quite privileged to be part of a team making a difference in the lives of many patients who struggle with neurological diseases."
Neurocrine specializes in targeting and interrupting disease-causing mechanisms involving the interconnected pathways of the nervous and endocrine systems. Abernethy's highly effective leadership skills and ability to think critically have greatly contributed to the company's success. He has effectively led the company's commercial supply chain operations, which led to double-digit net income growth in 2019. Abernethy has very strong relationships with the financial community, spearheading the investor relations function to ensure accurate and timely communication to shareholders. Over the past year, Abernethy also helped execute and fund more than $200 million in licensing arrangements, which included novel gene therapy programs, and treatments for a rare form of pediatric epilepsy.
Abernethy embodies the Neurocrine Biosciences corporate values of passion, integrity, collaboration, innovation and tenacity. He is passionate about the work the company does for patients and has created a collaborative work environment across the company that is built on trust, accountability and integrity. His motivating and transparent leadership style has been instrumental in promoting conversations, championing initiatives for employees, further enhancing the productive culture. Abernethy is a leader who is seen as authentic and whose style is exemplified by a calm presence in the office. This has not only instilled confidence in his team to follow his example, but also positively shaped the company culture. In recruiting for Neurocrine, he is extremely mindful to screen, interview, vet and ultimately choose candidates he knows will fit well within Neurocrine's unique company culture.
Collaborative Nature
He is committed to employee development and building an environment of trust where employees can learn from successes, as well as the key lessons from failures. His collaborative nature has allowed for open communication with other functional leaders and helped build consensus around which areas to invest into to create value from operational investments. For example, he routinely gives praise to staff at board meetings for a job well done instead of claiming full credit for himself. Abernethy previously worked for Zimmer Biomet, a medical device maker in Indiana. His roles included vice president for investor relations, treasurer and vice president of finance. He began his career with KPMG LLP and is a certified public accountant. Abernethy earned bachelor's degrees in accounting and business administration from Grace College in Indiana, and an MBA from the University of Chicago.
He is a member of the Biocom board of governors. He is also active in his local community; as a college athlete and active father of three, he is a passionate supporter of the Encinitas National Junior Basketball league, where he coaches both the 3rd/4th and 5th/6th grade boys' basketball teams. He is also an active member at the Coastline Church in Carlsbad.
Read the special section at https://bit.ly/3h5nwbn
View the winners at https://sdbj.com/2020_CFO/