Two Brothers Build $20M 'Dream Project'
Wednesday, August 19, 2020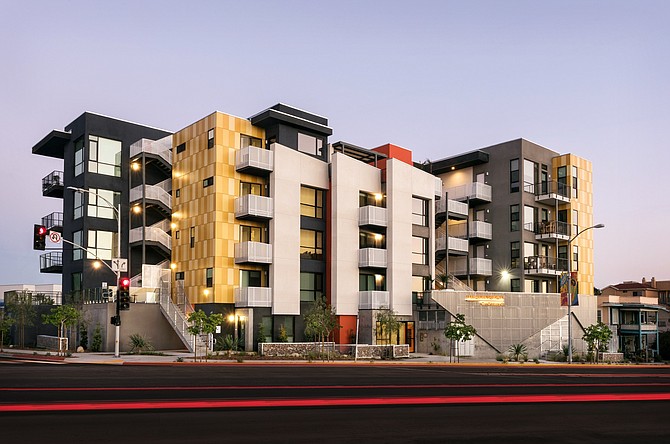 Brothers Mitch Keeler and Mike Keeler have just finished building a $20 million apartment complex in Hillcrest that they said was their "dream project."
Believe in the Area
"We had a vision to build something. We believed in the neighborhood," Mitch Keeler said. "We're native San Diegans from Hillcrest and Mission Hills. We believe in the area."
The brothers owned the property at 1445 Washington St. going back 35 years when they bought the first of four single-family homes that were on the site, Mitch Keeler said. They bought the last house about 15 years ago.
They decided three years ago that "it finally made sense" to redevelop the property into a five-story apartment building with 36 apartments, said Mitch Keeler.
"The area has changed," Mitch Keeler said. "It was kind of a run-down area to be honest."
The Keelers razed the four single-family homes that they had been holding as rental property at the corner of Lincoln Avenue and Washington Street to make way for the new apartment building.
Grew Up in Hillcrest
Mitch Keeler said he and his brother grew up in Hillcrest and went to Roosevelt High School. He said it was important that what they built fit the neighborhood.
"We're the fabric of the community," Mitch Keeler said. "We're thankful to our community, living in this community, growing up here, getting an education here, working here."
They finished the 60-foot tall structure just as COVID-19 hit, but Mitch Keeler said that the pandemic didn't pose any insurmountable problems, although it did slow down leasing.
In the early days of the pandemic, the Keelers were using virtual tours to show the property but have since gone back to offering live tours.
As of early August, nearly 30 apartments had been leased. Four of the apartments have been set aside as affordable units for disabled veterans and foster youth, Mike Keeler said.
Monthly rents on the market rate apartments range from $1,700 to $3,500, Mike Keeler said.
The complex has one studio apartment, 27 one-bedroom apartments and eight two-bedroom apartments.
Designed by Stephen Dalton Architects of Solana Beach with a colorful façade, Washington Crossing is meant to stand out as kind of a gateway entrance to Hillcrest, said Stephen Dalton, principal architect.