Two Margaritaville Properties Coming to San Diego
Monday, August 17, 2020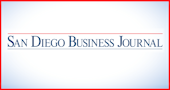 Margaritaville Holdings LLC is bringing not one, but two Margaritaville hotels to San Diego between 2021 and 2022.
In 2019, Pebblebrook Hotel Trust and Margaritaville announced its first west coast establishment, The Margaritaville Island Resort San Diego, to be located on the current Mission Bay's Paradise Point Resort & Spa property. That location was originally slated to open in 2020, but, COVID-19 and getting the proper approvals from the city and the California Coastal Commission have delayed the rebranding to either 2021 or 2022, according to Raymond Martz, executive president and CFO at Pebblebrook.
The news was followed by another release just earlier this year, announcing Margaritaville's second west coast location, the Margaritaville Hotel San Diego Gaslamp Quarter, to be housed where Solamar San Diego currently sits. This property is still on track to open next year, said Martz.
Two Venues
The strategic thought process behind opening two venues back-to-back in San Diego is to create a presence in this part of the country, said Jon E. Bortz, chairman, president and CEO of Pebblebrook, specifically in a city like San Diego that typically has a vibrant tourism and hospitality industry and has done such a commendable job with its reopening efforts.
The hope, he said, is that when COVID-19 is no longer an impediment, the two Margaritaville locations will not only complement each other, but also help drive dollars to the local economy and considerably aid in the city's recovery.
"The downtown location in San Diego's famed Gaslamp Quarter will provide convention goers, leisure guests and corporate travelers a unique experience in very close proximity to the city's dining, entertainment and retail venues. We look forward to taking advantage of this ever-growing affiliation, while also benefitting from operating synergies we believe will assist in significantly lifting the financial performance of this extremely well-located asset," he said. "Our island resort offers a unique San Diego beach experience in a secluded, yet centrally situated location to nearby downtown San Diego, SeaWorld, Balboa Park, Seaport Village and other top attractions… We expect a dramatic improvement in financial performance of Paradise Point upon reflagging, consistent with other Margaritaville branded resorts."
$1.5B and $2B Annually
According to reports, Margaritaville, the company named after singer Jimmy Buffett's pop hit and with over 20 locations around the country, brings in between $1.5 billion and $2 billion annually and draws more than 20 million visitors a year.
To reflect the Margaritaville experience, described as a relaxed "luxury meets paradise" vibe with bold colors and more open, light-filled space, the Margaritaville Hotel San Diego Gaslamp Quarter is currently going through a $20 million renovation, according to the company. Pebblebrook, the Maryland-based firm that acquired both Solamar and Paradise Point as part of a larger, $5.2 billion buy-out of the LaSalle Hotel Properties portfolio in 2018, kept the management company, Davidson Hotels & Resorts, on board for the day-to-day operation of the new brand.
Located on the 44-acres Vacation Island in Mission Bay, Margaritaville Island Resort San Diego has undergone a $35 million conversion. It features 462 casita-style single-story guestrooms with a "casual-luxe" design as well as waterfront views overlooking the marina and Mission Bay. Davidson will also manage this property, according to the company.