Sharing Medical Rides
Monday, August 17, 2020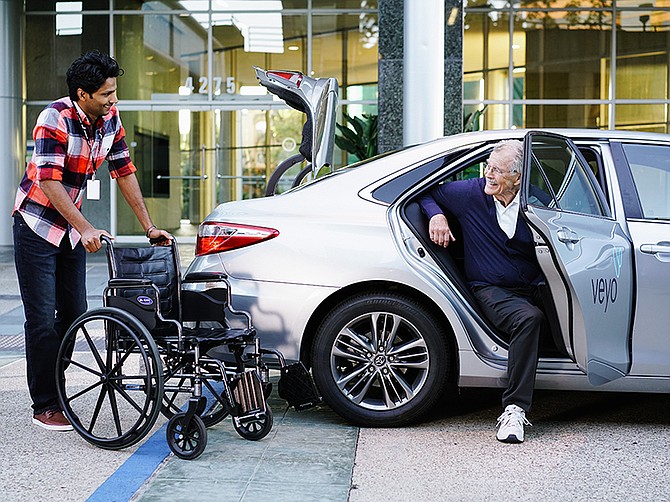 Veyo, a transportation broker, is disrupting the non-emergency medical transportation (NEMT) industry with its app-based technology.
The San Diego-based company has tripled its growth over the last three years and continues to expand into additional markets.
Spun out of Phoenix-area transportation and taxi operator Total Transit, Veyo is led by President and CEO Josh Komenda, a former Qualcomm Inc. engineer who has scaled the business to over 130 employees in less than five years.
Built for the healthcare industry and designed for the broad needs of health plan memberships, Veyo supplements the commercial medical transportation fleets by providing rides independent drivers  —  similarly to Uber and Lyft.
"We're fulfilling a really important need, especially for Medicaid members who are often lower income patients living with chronic disabilities and illnesses. All who need to get to their critical health care appointments, yet don't have a car in the family or can't drive because of a disability," said Komenda. "Not only does it improve people's lives, but it is a really good investment and has positive return-on-investment."
40,000 Daily Trips
Today, Veyo arranges about 40,000 trips per day, and has operations in six states including California, Arizona, Florida, Virginia, Michigan, and Connecticut.
Headquartered in UTC with offices across the US, Komenda said the team has worked to deeply improve its solutions including increase the sophistication of its operation as well as launching a number of new products for its members and healthcare providers.
For example, its latest product RideView, serves as a dashboard for booking, managing and tracking trips in real-time. An innovative tool that many healthcare providers have found to be powerful, said Komenda.
Veyo's customers are primarily large insurance plans or state agencies that have multimillion dollar budgets to deliver a transportation benefit.
The company brings in more than $200 million annual revenue and reached profitability last year, according to the company.
Reducing Costs
Millions of Americans miss their medical appointments each year. Veyo says 3.6 million Americans per year miss medical appointments or experience delayed health care because of transportation problems.
These no-shows reduce access for other patients. They also cost an estimated $150 billion a year by increasing administrative costs related to scheduling and rescheduling. In the context of Medicaid, these costs increase the price tag of the benefit, which is a form of subsidized health insurance paid for by state and federal taxpayers.
Relying on independent drivers trained in CPR, privacy issues and other medical sensitivities, Veyo significantly reduces its customers' costs and response times, all while bringing a new level of transparency and accountability.
"We have different types of drivers. Our traditional commercial providers are wheelchair companies, and our independent driver model is our healthcare version of the Uber or Lyft model. We oversee our drivers directly — we recruit them, train them and make sure they're fully qualified and background checked," said Komenda.
Veyo is now the third largest NEMT provider in the nation, with contracts with state agencies and health plans. Its passengers pay nothing because their rides are fully covered by Medicaid and certain Medicare Advantage plans.
Veyo isn't alone in tapping technology. Dozens of other medical transportation brokers are turning to mobile software to improve their service.
One of the largest, St. Louis-based Medical Transportation Management, offers its drivers a mobile app that includes turn-by-turn directions, GPS and time-stamp data, passenger signature capture and expedited claims submission. MTM operates in 29 states, including California.
COVID-19 Impacts
Komenda said the company certainly had some difficulties due to COVID-19, which caused many doctors' offices to temporarily close, reduce its operations, shift to primarily telemedicine visits.
In April, Veyo's nationwide volumes were down about 60%, though he noted that the traffic ticked up in May due to a "steady increase in demand" across its markets.
"People aren't using transportation services as much, so we have had a dip in volume," said Komenda. "In the short term, we developed  a couple of other innovative services and we're thinking even more in the long term. At some point, we're going to kind of see potentially the opposite thing happen, where after we have a vaccine and have sufficiently controlled the community spread."
Pivoting to assisting its clients in different ways, Veyo began offering technical support for logistics, delivering food for Meals on Wheels, and providing PPE to healthcare workers.
In addition, the company retrofitted its vehicles with plexiglass dividers between the driver and passengers, dressed drivers in head-to-toe PPE, and instituted a special set of procedures that avoid contact between driver and passenger. Following each trip, the vehicle undergoes an extensive EPA-approved decontamination procedure.
Looking forward, Komenda said the company's focus is on expanding into new states and securing new contracts with its prospects. Veyo plans to launch in Wisconsin this December.
"Hopefully, we'll see in-person doctor's appointments resume. I think we may see sort of a flood of people come back into the system as they finally get care that they've been delaying," said Komenda. "We're excited to continue to grow our company into new states. I think there's some really interesting opportunities for us and for companies that want to help solve problems and help get people the care they need.