COVID-19 Test in Demand
Monday, August 17, 2020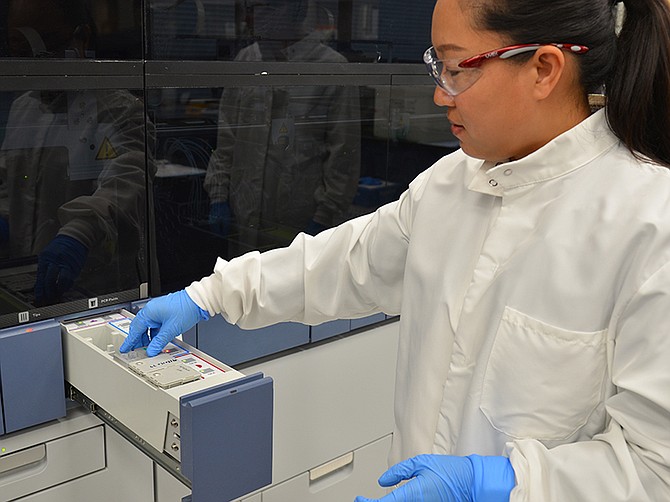 Executives at Hologic Inc. say they are fitting 10 years' worth of expansion into six months as they ramp production at their Sorrento Mesa factory because of the coronavirus pandemic.
The company produces molecular tests to screen people for SARS-CoV-2, the virus that causes COVID-19. The tests come out of its plant on Mira Mesa Boulevard, which is also headquarters for the company's diagnostics business and its R&D center.
CEO Stephen MacMillan told shareholders during an earnings call at the end of July that Hologic (Nasdaq: HOLX) provided an estimated one-quarter to one-third of the COVID test results delivered in the United States during the three months ended June 30. Nearly all of those tests came from San Diego.
During that quarter, the San Diego factory turned out some 13 million molecular tests for COVID-19.
"Our teams are giving 100% to meeting this urgent public health need," said Kevin Thornal, president of the Diagnostic Solutions Division of Hologic.
Revenue from Hologic's diagnostics business, both COVID and non-COVID, was $532 million in the recently ended quarter, up 75% from the same quarter one year ago.
A San Diego Product
The test is very much a San Diego product. A team at Hologic's Mira Mesa Boulevard office developed its first test for SARS-CoV-2 quickly after the genetic sequence of the virus was published in January. A second test, run on slightly different equipment, followed.
Today the business is in the middle of hiring 150 more people to work in Sorrento Mesa. Open positions include production engineers and other people to support the manufacturing and packaging processes.
Hologic employs a total of 965 people in San Diego.
The business is working to increase its production capacity. "This facility is a bit of a construction zone," said Michael Watts, vice president of investor relations and corporate communications.
In normal times, production grows in the single percentage points, he said. If that were the case, Hologic would be on track to double production in nine to 10 years.
But these aren't normal times.
MacMillan told shareholders in a July 29 call that Hologic plans to spend $50 million to expand COVID production, with $14 million spent through the quarter ended June 30. Among other things, Hologic is adding high-speed filling lines.
Pivoting Production Lines
The factory on Mira Mesa Boulevard runs 24 hours a day, seven days a week. Because of the pandemic, demand for many of Hologic's other tests — including those for human papillomavirus, chlamydia and gonorrhea — has declined. The business repurposed those production lines to make COVID tests.
"Our management teams have been creative in redirecting manufacturing capacity for our other infectious disease tests and automating specific aspects of test production," Thornal said.
At the end of the quarter, Hologic finished ramping up its Manchester, England facility to make COVID-19 tests, which are destined for the European market. The plant in the United Kingdom is not as large as the one in San Diego.
Before the COVID-19 pandemic, Hologic was producing about 20 million molecular tests per quarter. The business produced 30 million tests of all types in the recently ended quarter. The goal is 40 million tests, Watts said.
Hologic actually has two tests for SARS-CoV-2. The first one it developed runs on its Panther Fusion machine. The second, using a different chemistry, runs on the base model Panther machine. Hologic has about 2,000 Panther machines installed in hospitals and labs worldwide. Such machines were developed in San Diego and are now made in Europe. Hologic runs its business servicing those machines out of San Diego.
"It is a very energizing time to be at Hologic," Thornal said. "I'm tremendously proud of all of our teams – in R&D, manufacturing, regulatory, customer service – who have contributed to the development and ramp up of test production at this critical time."
Federal Contract Awarded
In related news, the U.S. Department of Defense and the Department of Health and Human Services awarded Hologic a sole-source contract for consumables for Panther machines that could be worth up to $7.6 million. The deal, announced July 25, will increase production of tube, cap and multi-tube unit consumables for Panther and Panther Fusion systems. The products are made in Wisconsin and distributed from California and Tennessee.
Hologic expects to deliver the increased volume of consumables to the market by January, according to a Defense Department announcement.
Hologic is based in Massachusetts. Its presence in San Diego is traced to its acquisition of Gen-Probe in 2012. Hologic paid $3.7 billion cash for Gen-Probe, or $82.75 per share. With the purchase, the company got into the molecular diagnostics business.
Hologic also produces products for gynecological surgery as well as breast imaging and skeletal health.
The business counts the quarter ending on June 30 as its third quarter. It reported net income of $137.9 million on revenue of $822.9 million. For the same quarter one year ago, Hologic reported net income of $93.9 million on revenue of $852.4 million.