Celebrations
Sunday, August 16, 2020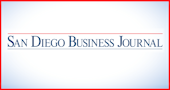 San Diego Women's Week is going global Aug. 28 with events being presented for the first time virtually. Organized by the North San Diego Business Chamber, this year's conference is celebrating 11 years of "inspiring, empowering and connecting leaders with virtual events for all ages and professions," according to organizers.
Attendees will have virtual networking opportunities, listen to keynote speakers, panel discussions, and more. All this is wrapped around creative solutions to everyday issues affecting leaders in the workplace and in their daily lives.
Keynotes for 2020 conference include:
Daymond John from Shark Tank, Linda Cureton, former NASA CIO, Ed Smart, father of Elizabeth Smart, Amy Trask, former NFL team executive, Mallika Chopra, daughter of Deepak Chopra, and Patti Perez
For tickets and additional details visit the San Diego Women's Week website at sdwomensweek.com.
+++
The return of Major League Baseball to San Diego has been a ratings bonanza for Fox Sports San Diego. Since the return of the MLB season, FSSD has been the number one rated network in the market from 6 p.m.to 10 p.m. in every age category.
With the COVID-19 delayed season and no fans currently being allowed at Petco or any other MLB park, it seems local baseball fans were more than happy that the baseball drought had ended and they could return to tuning in to watch San Diego's team.
"We anticipated an increase in Padres viewership given the delayed start to the MLB season, and the early ratings successes are certainly exceeding those expectations, said Wayne Guymon, vice president and general sales manager. "The demand from our advertising partners has been incredible and we are very proud to be delivering the excitement of Padres baseball to them and our viewers on a nightly basis. San Diego has fully embraced this team and we expect viewership to continue at this level for years to come."
+++
World Entrepreneurs' Day is coming up on Friday, Aug. 21, Serial San Diego entrepreneur Jennifer Barnes is celebrating by working to inspire area young people to be entrepreneurs. She shares her success and passion with the next generation of entrepreneurs by mentoring San Diego State University students and working with Junior Achievement. Barnes is now personally on her second business, Optima Office. Her company employs more than 50 and its business is to help fellow entrepreneurs with accounting, finance and human resources.
She holds an MBA from SDSU and currently sits on the boards of Junior Achievement and the Better Business Bureau.
"Entrepreneurs drive the economy forward with new ideas that challenge the status quo. They innovate, create and inspire. Entrepreneurs fuel the economy with new ideas that foster growth, challenge the status quo and inspire others to be better, faster and stronger," Barnes said.
Powerfully true.