Kearny Mesa Co. Converts Shipping Containers Into Homeless Housing
Thursday, August 13, 2020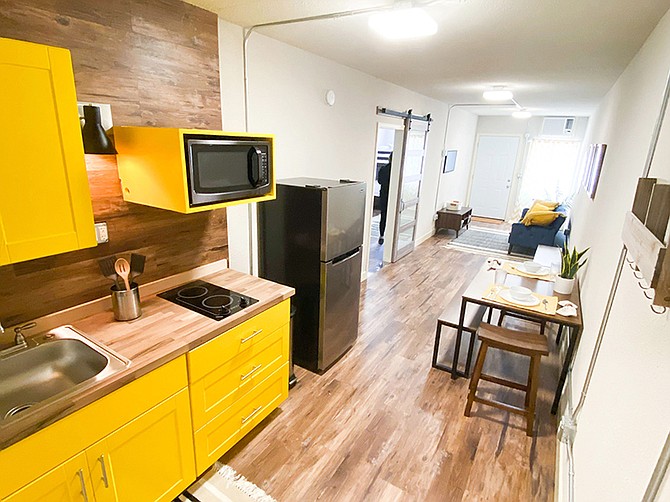 A Kearny Mesa company formed by former television producer Stu Segall wants to convert shipping containers into apartments for homeless families.
Production Back Lot
Strategic Operations, founded by Segall in 2002 on what had been the back lot for Stu Segall Productions, has been converting 40-foot long shipping containers into everything from fake homes to commercial buildings used for training by the military, law enforcement and first responders.
Craftsmen cut up the metal containers and weld them into replicas of commercial, residential and industrial buildings using facades similar to those used as film sets to make them look realistic.
Thousands of Structures
"We've built thousands of structures all over the U.S., Canada, the Far East and Kenya, Africa," said Kit Lavell, executive vice president of Strategic Operations.
The company even built a hotel out of shipping containers at Fort Irwin National Training Center near Barstow, Lavell said.
"It looks like a regular hotel and it's actually made out of shipping containers," Lavell said.
Using the same skills, the company is starting a program it calls Strategic Habitats to turn the containers into temporary or permanent housing units to help get people off the streets.
Homelessness "impacts everybody," Lavell said. "We just feel we could contribute to the solution."
The results are fully furnished, 480 square-foot single family homes with bathrooms, kitchens and bedrooms big enough for two adults and two children.
"We can build these things in large quantities to meet the need," Lavell said.
Can Be Combined for Multi-Story Housing
The container homes are bigger than a typical hotel room and can be made to be ADA (Americans with Disabilities Act) compliant, Lavell said. They can be combined to create multi-story housing complexes.
"We can stack these two high or even higher," Lavell said. "They can be put together in different configurations."
As a demonstration project, Strategic Solutions used three containers to create a duplex apartment building.
One container on each side has a living room, kitchen and bathroom.
A third container sandwiched between them has a bedroom for each of the units.
The converted containers cost about $125,000 each, Lavell said, far less than it costs to convert a motel into housing for the homeless or build a new structure from the ground up.
Manufactured at Strategic Solutions' Kearny Mesa headquarters, the modular units would be hoisted onto a flatbed truck with a crane and delivered.