Flock Freight Sees B Corp. Certification as Competitive Advantage
Thursday, August 13, 2020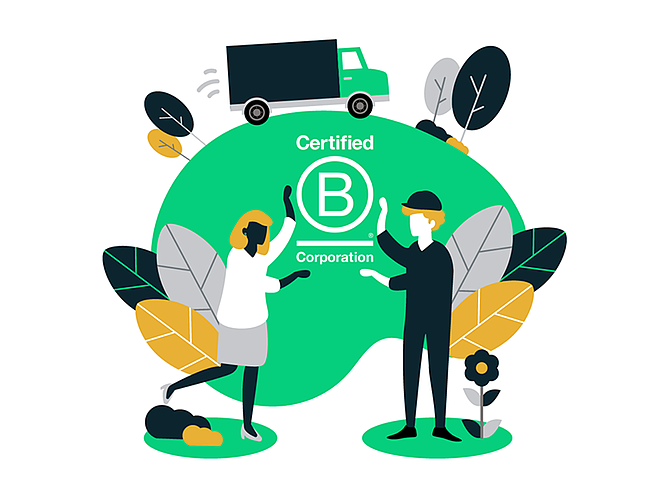 San Diego companies Flock Freight and Dr. Bronner's are walking the talk when it comes to global responsibility and corporate accountability.
Founded in 1948, Dr. Bronner's is a soap-making company and the third-highest ranked Certified B Corp for ethical, sustainable and progressive business practices in the world.
Alongside Bronner's, is now Flock Freight, a trucking logistics company which became the first Certified B in its industry and is one of the ways its setting itself apart from its competitors.
"We are the only freight logistics company that is a certified B Corp," said Jeff Lerner, vice president of marketing of Flock Freight. "It's a small community with 3,500 global companies in total and the bar to get in is very high. Most (if not all) wouldn't qualify because they're not looking at the environmental impact among other things."
Flock Freight is committed to the environment reducing carbon emissions by up to 40% with its shared truckload solution by pooling multiple less-than-truckload and partial truckload shipments that are going in the same direction onto one truck.
"Sustainability is an integral component of Flock Freight's business model, and the B Corporation certification validates our commitment to transforming the $65B freight industry with shared truckload shipping, which makes shipping freight sustainable, affordable, and efficient," said Oren Zaslansky, founder and CEO of Flock Freight.
Employee Commitment
A notable part of earning this certification was Flock Freight's commitment to its employees, said Lerner.
"Over the years, Flock Freight has prioritized the wellbeing of its team and remains heavily invested in providing competitive benefits, stock options, retirement plans, and company-sponsored perks," he said.
Leading by example, at Dr. Bronner's, employee benefits include fully paid health insurance, $5,000 in annual childcare subsidies, year-end bonuses of up to 25 percent and a profit-sharing retirement fund with up to 15 percent of each worker's salary contributed annually by the company.
Its executive pay is capped at no more than five times the lowest starting hourly rate of $18.71, when the national average is 312 times.
Transporting Goods
Over the past five months, Dr. Bronner's products, especially its sanitizer were up by 50% compared to liquid soap which is 70 percent of the company's business, due to the demand sparked by COVID-19.
Dr. Bronner's began working with the logistics startup to ship its goods to its retail customers through its less-than-truckload platform.
"For us at Dr. Bronner's it is important to do business with other mission driven brands like Flock Freight who back up their values with B Corp certification to ensure they walk the talk in their approach to business," said Benny Andrade, senior logistics manager at Dr. Bronner's.
Headquartered in Vista, Dr. Bronner's brought in roughly $129 million in annual revenues last year. Its product line has grown to include liquid and shaving soaps, hair cream and rinse, lip balm, body lotions, hand sanitizer, biodegradable cleaner, organic coconut oil and toothpaste.
Double-Digit Growth
Business for Flock Freight also has seen a steep uptick in growth from the coronavirus. "We've had double-digit growth for the last few months," said Lerner. "We're seeing more and more companies see the value of shared truckloads. Those who used to ship one, two or three pallets of goods, are now realizing they would rather spend a little bit more money to get direct service that won't result in damage."
Flock Freight has scaled its platform to service more than 10,000 carriers and has closed over $70 million in venture capital funding, to date.
Since the pandemic began, the company has hired 30 local staffers and is actively hiring for its engineering and carrier sales roles.
Weathering the storm, Flock Freight is focused on building out relationships with both new and existing carriers, while continuing to transport freight for its customers.