Evofem Reports Results, Readies Product For September Debut
Wednesday, August 12, 2020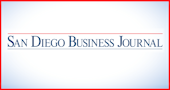 Evofem Biosciences Inc. has set Sept. 8 as the day that its pH-regulating birth control product, Phexxi, will go on the market.
The Carmel Valley company offered that and several other updates when it reported quarterly financial results on Aug. 4. In May, the U.S. Food and Drug Administration approved Phexxi for the prevention of pregnancy. The non-hormonal vaginal gel may be used as an on-demand method of contraception.
Separately, Evofem (Nasdaq: EVFM) said it plans a late-stage clinical trial for its EVO100 compound before the year is over. The phase three trial will gather data on how well the compound prevents chlamydia and gonorrhea. The trial is expected to begin in the fourth quarter.
Evofem is pre-revenue and recorded a net loss of $52.7 million for the second quarter, compared with a net loss of $35.5 million for the like quarter of 2019. It has 55 employees in the San Diego area and 90 employees overall. Prior to the September launch, it plans to add 60 more field staff, a spokeswoman said.
'A Position of Strength'
Evofem CEO Saundra Pelletier was upbeat about the second quarter results.
"The second quarter of 2020 was marked by success across all areas of our business. With the FDA approval of Phexxi in hand, more than $130 million in gross proceeds from our two financing transactions on the books, and clear guidance from the FDA regarding the clinical path forward for EVO100, we are operating from a position of strength with a clear vision for the future," Pelletier said in a statement.
"We are now intensely focused on the successful commercial launch of Phexxi in September and ensuring the team's ongoing excellence in execution with manufacturing timelines, payer coverage, sales force recruitment and the build-out of our unique telemedicine platform — the Phexxi Concierge Experience. It's going to be an exciting third quarter."
According to Evofem, Phexxi is the first non-hormonal, on-demand, vaginal pH regulator contraceptive designed to maintain vaginal pH within the normal range of 3.5 to 4.5 — an acidic environment that is inhospitable to sperm. Phexxi is lactic acid, citric acid and potassium bitartrate.
Other events of the second quarter included meetings with all major commercial payers. Evofem received early formulary inclusion of Phexxi at a $0 copay from several regional insurers.
Added Cash, Added Expenses
Evofem benefited from two financing transactions in the recently ended quarter. These put approximately $136 million on its balance sheet. An underwritten public offering of common stock in early June brought in approximately $100 million. The other transaction was a private placement of convertible notes and warrants with a U.S.-based, healthcare-focused institutional investor.
In announcing the financing, Evofem noted the transactions came during a particularly challenging time in the financial markets.
As of June 30, the business had $123.6 million in cash.
The second quarter results showed a notable increase in selling and marketing expenses. They reached nearly $10 million, compared with $1.3 million in the quarter ended June 30, 2019, reflecting the commercial launch of Phexxi. These included pre-commercialization marketing expenses, higher payroll-related expenses due to increased headcount, and increased market access and medical affairs expenses.
General and administrative expenses stood at $9.7 million during the quarter, up from $5.38 million in the second quarter of last year.
Research and development expenses during the recent quarter fell; they were $2.64 million in the second quarter of 2020, down from $5.25 million in the same quarter of 2019.
Outlook for 2020 and Beyond
Looking ahead, the company said it continues to expect cash burn of approximately $36 million to $38 million in the third quarter.