Cubic to Provide Up to $172M in GATR Antennas to Special Operations Command
Wednesday, August 12, 2020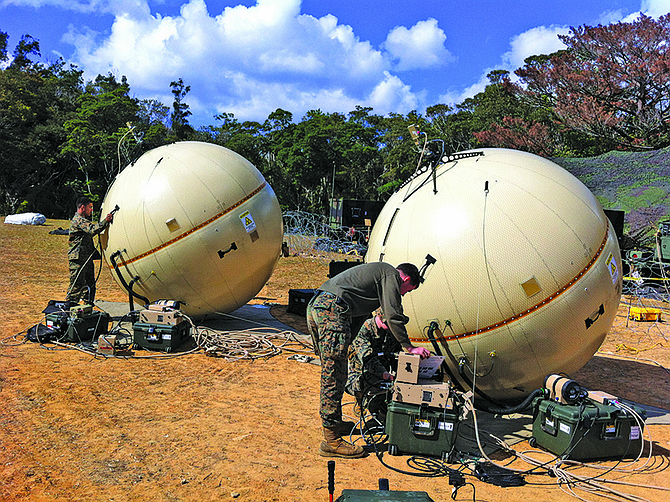 The following are selected defense contracts awarded to San Diego County companies in July and August. They have been announced by the U.S. Department of Defense or the contractor itself. Listings also include companies operating in San Diego County.
The U.S. Special Operations Command awarded the GATR Technologies subsidiary of Cubic Corp. a five-year, indefinite delivery, indefinite quality contract that could be worth as much as $172 million. Under the deal, the command plans to buy 1.2 meter and 2.4 meter Ground Antenna Transmit and Receive (GATR) inflatable satellite communications terminals and ancillary equipment. The majority of the work will be performed in Huntsville, Alabama and is expected to be completed by August 2025. Cubic is based in Kearny Mesa. The contract is a Phase III Small Business Innovation Research award. The U.S. Special Operations Command of Tampa, Florida, awarded the contract, announced on Aug. 3.
RQ to Construct Training Building in Norfolk
The U.S. Navy awarded Carlsbad-based RQ Construction LLC a $61.3 million modification to an existing contract for construction services on the Mariner Skills Training Center at Naval Station Norfolk, Virginia. The total contract amount after exercise of this option will be $70.3 million. The construction of a new two-story building will accommodate office, administration and training spaces along with a high-bay area. The high-bay area will house several large bridge trainers, simulating conditions from the bridge of a ship with the purpose of training a limited number of personnel at one time. Work is expected to be completed in January 2022. The contract was competitively procured via a multiple award construction contract. The Naval Facilities Engineering Command Mid-Atlantic in Norfolk, Virginia, awarded the deal, announced on July 31. It received six proposals.
Gotham Gets COVID-19 Work
The U.S. Air Force awarded Gotham LLC of San Diego a $42 million contract for operation of a high capacity lab SARS-CoV-2 Clinical Laboratory Improvement Amendments certified lab, laboratory validation studies, training, custom software interfaces to the electronic health records and 250,000 collection kits, shipping and test results. Work will be performed at all Department of Defense clinical military treatment facilities within the U.S. and is expected to be completed Oct. 31. The Department of the Air Force Rapid Capabilities Office at Joint Base Anacostia-Bolling in Washington, D.C. awarded the contract, announced on July 31.
Cubic Part of $38M Air Force Award
The U.S. Air Force awarded the Cubic Mission Solutions business division of Cubic Corp. a contract worth $38 million to deliver a specialized radio network known as a Joint Aerial Layer Network (JALN) High Capacity Backbone (HCB) prototype. The backbone is a critical element of the network, designed to maintain network connectivity among joint forces (that is, forces from multiple U.S. military services) across the aerial layer. Cubic's offering will consist of integrated capabilities across its Protected Communications and Command and Control, Intelligence, Surveillance and Reconnaissance (C2ISR) portfolios.
According to Cubic, the company will deliver a high-capacity, extended range, self-organizing and self-healing network backbone that connects war fighters to a mission-optimized network of networks in satellite communications-challenged environments. Cubic's solution will ensure network availability and resiliency in all environments, accelerate data delivery for increased decision speed and support advanced war fighting concepts.
Cubic's partners for the project include Raytheon BBN and Expeditionary Engineering, which will provide advanced aerial networking technology and expertise.
L3Harris to Work on Signal Jammers
L3Harris Corp. will perform around $7.3 million worth of work on signal jamming electronics over three years in San Diego. Navy F/A-18 aircraft carry the integrated defensive electronic countermeasures onboard jammer systems. The deal is part of a $104 million U.S. Navy contract awarded on July 31. The Navy is ordering 35 full-rate production jammers from Lot 17, as well as 14 weapons replaceable assemblies. The contract also provides for repair of test assets and field support for systems already in service. The Naval Air Systems Command of Patuxent River, Maryland awarded the deal.
Davit Deal for Appleton Marine
Appleton Marine Inc., a small business based in Appleton, Wisconsin, will replace up to 35 slewing arm davits, doing limited work in San Diego and other ports under a U.S. Navy contract worth up to $23.4 million. A davit is a crane affixed to a ship, used to hoist small boats or rafts. The Naval Surface Warfare Center's Philadelphia Division in Pennsylvania awarded the contract, announced on July 8.