REAL ESTATE: CO. LASER FOCUSED ON LUXURY MARKET
Local Real Estate Icon Joins Coldwell Banker West Team
Tuesday, August 11, 2020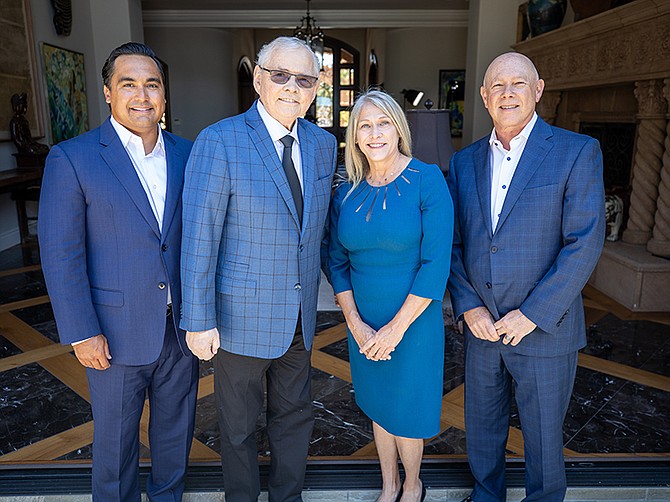 One of San Diego County's leading real estate companies has teamed up with a well-known industry veteran to grow and sharpen its luxury brand. Coldwell Banker West announced that Steve Games has joined the organization as a partner, and the President of their new Coldwell Banker West Global Luxury Division. Steve will be responsible for the company's 1,000 real estate professionals who are laser-focused on the luxury market, operating out of 14 offices throughout San Diego,
"This is huge. This is a game changer. Adding Steve Games to our team puts Coldwell Banker West in an amazing partnership with an individual who has formed the face of San Diego real estate," says Peter Mendiola, owner of Coldwell Banker West. "Steve is known nationwide for his accomplishments, and I am humbled and beyond excited to share this news."
Steve began his career in San Diego County and Southern California some 45 years ago, and ironically, feels like he's "coming home," since Coldwell Banker was one of the first places that he hung his license. His career includes growing residential real estate firms to reign at the top of the industry in Southern California, one of which he grew to be the largest and most prominent in the entire United States, with more than 5,000 agents. And just last year, Steve was the CEO of a company which ranked in the top 20 in the country. Steve was also recently ranked on the Swanepoel T3 list of the Top 200 Most Influential People in Real Estate in 2019.
When asked, Steve says of his new venture, "I truly feel that I am joining the best leadership team ever assembled during the 40+ years of my real estate career. I started with Coldwell Banker and now feel like I am coming home. They have the same heart for real estate that I do, and collectively, we are going to do what I believe the industry is crying out for right now and answer the needs of the most discriminating buyer who wants to find a place to call home in San Diego."
Chris Hogan, Vice President of Coldwell Banker Real Estate says, "Steve Games is an iconic person in luxury real estate and an impressive addition to the Coldwell Banker Global Luxury program. When you combine Coldwell Banker, the world's leading brand for selling $1M+ homes, with the power of Peter Mendiola with Coldwell Banker West, and Steve Games' partnership in San Diego, local market dominance is in the making. These visionaries have a deep knowledge of San Diego real estate, tremendous marketing backgrounds and their heartfelt leadership will no doubt have a game-changing impact on San Diego luxury real estate sales."
Mendiola has recently navigated the brokerage through some important mergers within the real estate community. Obtaining a large, local brokerage in South County, moving into the East County area with the acquisition of space in Mt. Helix and most recently expanding with the addition of the Penny Nathan and her Ascent Real Estate Company.
The brokerage also has its sights set on the North County region as it looks to expand its reach across San Diego County.