University of San Diego Launches CBD Certificate Program
Monday, August 10, 2020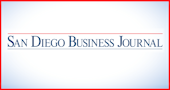 The University of San Diego has teamed up with Green Flower Media, a company that produces online training and content in the cannabis industry, for six-month certificate programs in the cannabis industry.
The programs are in four study areas: The Business of Cannabis, Cannabis Agriculture Horticulture, Cannabis Law & Policy, and Cannabis Healthcare & Medicine. They are divided into three eight-week courses, which students can complete on flexible schedules through weekly modules. Students will also complete a portfolio project in their chosen sector, which will be taught by experts in the cannabis industry.
Green Flower was founded in 2014 and has an employer network, including San Diego-based recruiting firm, CannabizTeam, which places 2,000 candidates into jobs annually.
Travel & Hospitality reporter Mariel Concepcion can be reached at mconcepcion@sdbj.com or 858-634-4625.