Leo Lens Sees $300M Opportunity in its Future
Monday, August 10, 2020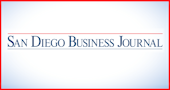 Wear it and forget about it. That's the promise held out by Leo Lens Pharma.
The business, based in Scripps Ranch, is headed into clinical trials with a contact lens that slowly and steadily dispenses medicine into the eye. A phase two clinical trial for the treatment of glaucoma is set for fall.
CEO Dan Myers said the product could reach the market around 2023, adding that the company has the opportunity to make $300 million or more in revenue by its fifth year in business.
Leo Lens has raised an initial $7.5 million and aims to close an additional $2 million in seed funding in the next few weeks. "We're getting very close" to closing the round, Myers said.
The new funding will pay for the phase two trials and the meeting with the U.S. Food and Drug Administration that will follow.
The company's Series A round of approximately $10 million is planned for the second half of 2021, Myers said.
The Relief Is in the Ink
Most glaucoma patients give themselves eye drops. Some patients, however, don't like to give themselves their medicine or don't stick to their routine. "For some patients, compliance is a big problem," Myers said.
To imagine how Leo Lens' product works, one has to think of a drug not as a liquid, but as ink.
The company digitally prints medicine onto the surface of an existing, FDA-approved contact lens. It prints it in such a way that a certain amount of drug is released over a certain period of time. The scientists at Leo Lens determine how to structure 3-D drug reservoirs as well as barrier layers to make all of this happen. The contact lens only needs to be changed weekly.
The technology is called MediPrint — a name that Leo Lens has trademarked. The business has seven U.S. patents and 16 patents outside the United States.
Saving Sight
Glaucoma is the second leading cause of blindness in the world.
"Our primary aim at Leo Lens Pharma is to help protect sight, a goal we will strive for by continuously delivering medication to the eye via a non-invasive contact lens," said Myers. "Our proprietary approach is spotlighted in a glaucoma therapy in the form of a weekly lens offering 24/7 continuous medication delivery, which is the most advanced product in our broad pipeline. We believe we can develop and commercialize a future standard of care for effective medication delivery to the eye, and help eye care professionals and their patients surmount the shortcomings, such as non-compliance, of antiquated and inadequate daily eye drops."
The target market for Leo Lens' glaucoma product is not an elderly patient with advanced glaucoma, but Baby Boomers. There are approximately 1.3 million people in the United States with mild to moderate glaucoma, Myers said. The market opportunity is a little more than $1 billion, in the U.S. alone.
Clinical Trials on the Calendar
The upcoming phase two trial will deliver the standard glaucoma drug, bimatoprost, via the Leo Lens contact lens. The main emphasis of the trial will be safety and comfort, Myers said; a secondary emphasis will be the product's efficacy. The trial is expected to have five to seven patients.
Myers said he anticipates going through late-stage, phase three trials next year. That study is expected to have several hundred patients.
Leo Lens was founded by Praful Doshi. Myers said his own enthusiasm for joining Leo Lens grew once he learned that Doshi has invested $2.5 million of his own money in the company.
Myers runs the San Diego company from Atlanta currently. He joined in January after a 37-year career in ophthalmic pharmaceuticals. He is chairman of Alimera Sciences (Nasdaq: ALIM) of the greater Atlanta area, as well as a co-founder and its former CEO. Alimera produces medicine for retinal diseases.
The COVID-19 lockdown slowed the process of getting funds for the seed round, Myers said. Meeting a financial backer through a Zoom call does not quite offer the same fund raising punch as getting on a plane and meeting the person face to face, he said. Nevertheless, the CEO said, he's looking forward to completing this round of financing.
A Widening Vision
Glaucoma may not be the only disease that Leo Lens ultimately treats.
There is a $3 billion U.S. market for treating dry eye, said Myers. Patients in their 50s and 60s suffer the painful sensation of the cornea and eyelid rubbing together, and now have to take eye drops several times a day.
The printed contact lenses might also treat allergies, or infections in the wake of cataract surgery.