Concrete is No Barrier for This Office
Monday, August 10, 2020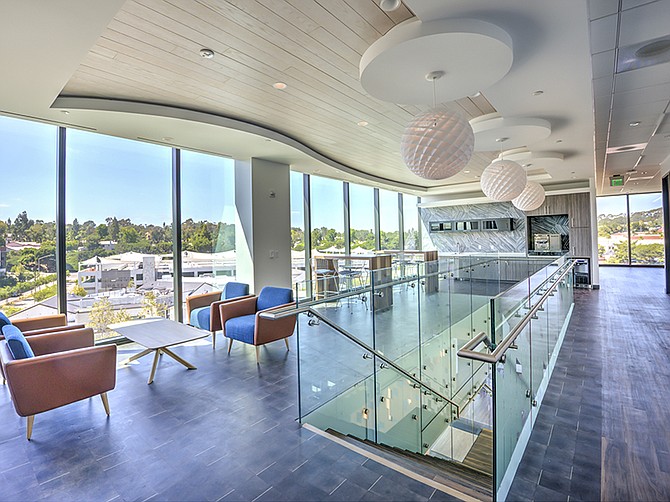 When the intellectual property law firm Fish & Richardson moved its San Diego headquarters to One Paseo in Carmel Valley, the firm did more than bring in some new furniture.
They had a giant hole cut in the floor to build a staircase within their space to connect the third and fourth floor space they leased from Kilroy Realty Corp.
The firm signed a 10-year lease on 32,300 square feet – the entire fourth floor and half of the third floor of one of the two office buildings Kilroy built in One Paseo with a total of 286,000 square feet.
"We had a showcase stairwell installed," said Roger Denning, managing principal of Fish & Richardson's Southern California office.
"We really wanted to make sure that the two floors self-connected rather than having two separate spaces," Denning said. "We're super excited that that's going to really connect the floors to make it feel like one big workspace."
Slick
Kyle Felton, project manager of Pacific Building Group, described building the staircase as "an interesting adventure."
"It turned out pretty slick though," Felton said.
Pacific Building Group was the general contractor on the project. ID Studios was the architect.
Part of the work involved lifting glass panels of about 500 pounds each with little space to maneuver.
"Glass doesn't bend. There were a lot of layout checks, rechecks, field checks with the architect to make sure we were headed in the right direction," Felton said.
Cloaked Glass
Besides the staircase, the new offices include a number of high-tech features, including conference rooms with glass walls tinted with Casper Cloaking Film. The film allows passers-by to see inside but blanks out large screen televisions as a security measure.
The space also includes glass-walled source code rooms where people can be monitored from outside the rooms as they view proprietary computer data.
Denning said one of his favorite places in the new offices is a fourth floor outdoor terrace that can be used to meet with clients, relax or as an outdoor work space.
"We want our office to be a place where our employees are comfortable and feel at home and enjoy coming to work and we want our clients to have that same feeling, Denning said.
Fish & Richardson had a staff of about 75 in its former location. The new offices give it room to expand its staff to about 95, Denning said.
Before
The firm moved in mid-July to One Paseo from offices it had leased nearby on El Camino Real for the past 18 years.
As much as the firm liked its old location, Denning said it wasn't very walkable.
"We wanted a place where our employees can have easy access to coffee and lunch places and One Paseo seems like a great location," Denning said.
One Paseo is a mixed use development with a shopping center, housing and two office buildings.
The two office buildings are more than 90 percent leased, said Nelson Ackerly, senior vice president of Kilroy Realty Corp.
Fish & Richardson was the first tenant to move in. Other tenants include Deloitte, Compass, JP Morgan, Cushman & Wakefield, Bank of America and Boxer Capital.
"Despite the uncertainty caused by the pandemic, we have been pleasantly surprised by the activity on the remaining vacancy," Ackerly said. "It is clearly a testament not only to the office buildings but the overall mixed use project."
Ackerly said the pandemic had no effect on the construction of the office buildings.
"Our tenants have seen some minor delays in the build out of their spaces caused by the pandemic, including delays from loan approval times at the city and longer lead times on furniture."