Aethlon Medical Receives $3.5M NIH Grant
Originally published August 10, 2020 at 10:05 a.m., updated August 10, 2020 at 10:05 a.m.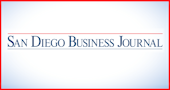 Aethlon Medical, Inc., a San Diego-based biotech company has received a $3.5 million grant from National Institute for Dental and Craniofacial Research for studies in head and neck cancer.
These studies will be a collaborative project between Aethlon and the UPMC Hillman Cancer Center at the University of Pittsburgh.
The collaboration will profile the biomarkers of exosomes in patients with recurrent and metastatic head and neck cancer and will explore the impact of clinical depletion of exosomes using Aethlon's Hemopurifier device — a blood filtration device.
"Head and neck cancer continues to have a poor prognosis due to disease recurrence and the development of metastatic disease. We believe that the real value of this grant for Aethlon is that this work will provide insights into the potential clinical benefits of depleting circulating exosomes using the Hemopurifier for improving the responses of patients to the standard immunotherapy treatments," said Timothy Rodell, CEO of Aethlon Medical.
Aethlon is also investigating the potential therapeutic use of the Hemopurifier to reduce the presence of tumor-derived exosomes, which contribute to immune-suppression and the spread of metastasis in cancer patients.
Founded in 1996, the company employs roughly 20 local staffers and is a publicly traded company (Nasdaq: AEMD).