Digital Banking Creates Bridge, Opens Up Opportunities During Pandemic
Sunday, August 9, 2020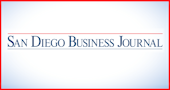 In a relationship-based business like banking, building relationships with new clients typically means taking the time to get to know each other before a deal is made.
However, the coronavirus pandemic has sped up that process, especially where loans are concerned. It has also revealed how important it is for banks to find new ways to build relationships with local business owners.
Leaders at financial institutions across the San Diego region explained how banks have leaned into technology, but their role as a consultative voice in the community is essential to meet the needs of clients during the coronavirus pandemic.
Take the PPP loans. Through the Payment Protection Program Loan, or PPP loan, the Small Business Administration offered federal loans that incentivized small businesses to keep workers on their payroll and stay afloat.
While digital banking is the core of most financial institutions' business strategies, there is still no replacement for connecting with a human being when clients need financial guidance.
Relieving Local Businesses
When the first round of PPP loan applications opened a few months ago, "it was like drinking from a fire hose" as banks were overwhelmed by local businesses searching for financial relief, said Tony DiVita, executive vice president and chief operating officer at Bank of Southern California.
While the initial demand for PPP loans required Bank of SoCal to put some of their traditional loan offerings on the back burner, DiVita said his team was motivated by the positive feedback to relieve businesses, including industries that are vital to San Diego such as hospitality.
During the peak demand for PPP loans, Banner Bank cross trained more than 200 employees to assist with helping clients interested in applying, as well as processing and documenting these loans, said Steve Espino, senior vice president and San Diego Commercial Banking Division director for Banner Bank.
"Handling this volume of PPP Loans has been challenging at times—it's been running a sprint from a shotgun-start," Espino said.
He added that to date, Banner Bank has processed more than 9,000 applications and funded more than $1.176 billion in loans. Additionally, Espino said Banner's ability to facilitate these financial decisions and maintain relationships with clients has been greatly impacted by technology as it has been the case across the industry.
Digital Banking
Beyond digital transactions, the industry's accelerated shift to online tools has opened opportunities for financial institutions. Technology has reinvented the way banks do business and connect with clients and prospective clients, said Kris Ilkov, executive vice president and Southwest Regional director for Umpqua Bank.
"Interestingly enough, the adaptation has been almost overnight but it hasn't impaired the relationships," Ilkov said. "It's rather increased the level of attentiveness and responsiveness to clients' needs because everyone is virtually connected throughout the day."
"Every financial institution must embrace digital transformation to remain a relevant choice for banking and for many, this has been accelerated by the pandemic," San Diego County Credit Union, President and CEO Teresa Campbell said. "SDCCU has an elevated focus on technology and is looking at both internal and external processes to see where we can make digital enhancements."
As the largest locally owned financial institution based in San Diego, SDCCU saw mobile deposits go up 25 percent over the previous year, as more consumers conduct digital transactions using the bank's existing digital infrastructure.
For banks that primarily serve San Diego's business community, digital banking created a bridge to continue services even when California's stay-at-home order stifled productivity for companies back in March.
"Having a digital platform right off the bat was nice for those customers who were looking to upgrade their banking system versus just walking into a retail location," said A.J. Moyer, president and CEO of San Diego-based C3bank.
The bank, which was purchased by its current owners back in 2014, has kept digital banking at the forefront of serving local businesses from the beginning, Moyer said.
Moyer said C3bank did more than 500 PPP loans, over $100 million which was a result of the bank's community centered approach.
"We really just targeted local businesses and literally were cold-calling businesses in town, trying to walk door to door to the businesses that were open; calling customers that we currently had and ensuring that any of their customers were taken care of through the program," Moyer said.
At Union Bank, the company secured 2,428 PPP loans for a total of $340 million, in San Diego County with the average loan size being about $141,000. Rather than pushing clients to adopt digital platforms, the bank is meeting people where they are comfortable, said the Head of Retail Banking and Deposits for Union Bank, Brian Milton.
"There' no app — that I'm aware of — that helps you get comfortable with that mortgage that you are about to apply for or that helps you get comfortable with taking out that huge PPP loan," Milton said. "There's no digital solution that puts your mind at ease with the big, important financial decisions like that."
Listening to Clients
The full-service bank has doubled investments in educating clients on how to help customers digitally, said Milton, who leads a team of more than 2,000 employees who serve 1.3 million clients throughout the West Coast.
"We know these businesses are struggling, because we're right alongside them," Milton said. "We sit in the community — we are in San Diego. I know the Thai food restaurant that came to us for a PPP loan is struggling not just because they asked for help, but because I visit them weekly and I know that they're having a hard time."
For institutions like Mission Federal Credit Union, a key to their business strategy has always been listening to the needs of their clients, said CEO Debra Schwartz.
As a result, Schwartz explained how Mission Fed used this feedback to build off existing programs and digital services offered to members such as "Skip-A-Pay." In addition to waiving a standard fee, the program allows qualified borrowers to skip up to 1 monthly payment during the coronavirus pandemic.
"We've always had that option and we just enhanced it," Schwartz said. "We saw the type of calls we were getting and the panic in our members and we just thought it would be one less thing they'd have to worry about."
As a large, local credit union that exclusively serves San Diegans, Schwartz said having the ability to reach clients directly and provide financial guidance during tough times is vital.
In fact, it is this consultative aspect that Schwartz and other local leaders said cannot be replaced completely by digital services. While many banking institutions have experienced an increase in demand for online services, it doesn't necessarily mean brick and mortar branches will go away.
What's Next
When it comes to relationships, communication is key and at Union Bank, Milton explained how rather than "talking at clients," he keeps his finger on the pulse of what the community needs.
As the next round of PPP loan applications close and what the forgiveness process of these loans will look like remains to be seen, Milton said the communication between banks and businesses is more important than ever to get through the pandemic.