San Diego International Airport Adds First JetBlue Flight to New Jersey
Thursday, August 6, 2020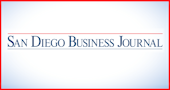 San Diego International Airport has launched its first flight service to New Jersey through JetBlue. Other routes JetBlue serves from SAN are Boston Logan International Airport and Fort Lauderdale/Hollywood International Airport.
JetBlue is the only carrier to offer nonstop service to two New York area airports from SAN. This includes EWR and John F. Kennedy, according to the San Diego County Regional Airport Authority.
In response to COVID-19, SAN has implemented a number of safety protocols, including increased cleaning of high touch points, signage, floor decals and seat separation to encourage social distancing, hand sanitizer stations and plexiglass sneeze guards in certain public spaces. Facial coverings are also required for all passengers and employees, excluding those with a medical and mental health condition or developmental disability.
In operation since 1928, SAN offers nonstop service to about 70 destinations in the continental U.S., Europe, Asia, Mexico and Canada.
Travel & Hospitality reporter Mariel Concepcion can be reached at mconcepcion@sdbj.com or 858-634-4625.