Museum of Man Changes Name to 'Museum of Us'
Originally published August 3, 2020 at 10:49 a.m., updated August 3, 2020 at 10:54 a.m.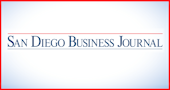 San Diego's Museum of Man has made a name change.
Formally adopted by the Board of Trustees on June 24, the Museum of Man will now be called the Museum of Us. The name change process took over two-plus years and hopes to be more inclusive.

"Changing our name corrects the exclusion of all who do not identify with the word 'Man', and welcomes folks to a place that's about 'all of us'," said Nora Taylor Jaffee, Museum of Us trustee. 'All of Us' is also the Museum of Us' new tagline, according to the organization.
A name change was first considered in 1991, and in 2017, the Board of Trustees decided a change in name should be explored once again, considering the Museum's mission and program strategy had shifted. "Once known for its academic exhibits focusing on ancient civilizations and human evolution, the Museum's offerings now delve into universal themes that cut across time and cultures," said the organization.
The newly named Museum of Us was founded over 100 years ago and is located in Balboa Park. The museum's mission is "to inspire human connections by exploring the human experience."
Travel & Hospitality reporter Mariel Concepcion can be reached at mconcepcion@sdbj.com or 858-634-4625.