Marketing Firm Helps Center Tenants Withstand COVID-19
Monday, August 3, 2020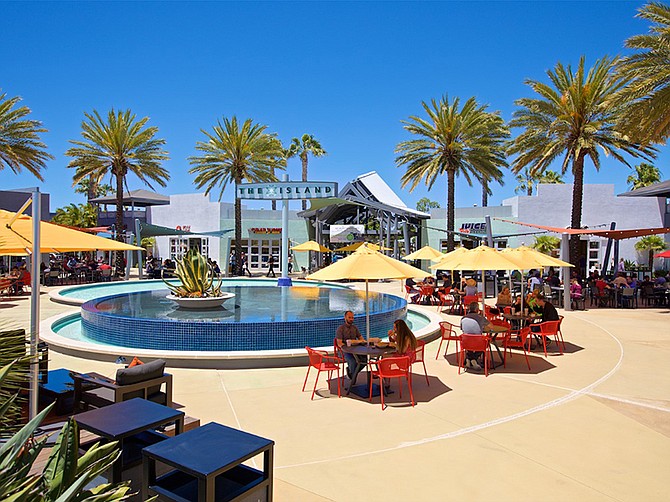 A Carlsbad firm that invests, develops and manages commercial real estate has hired a Florida-based marketing consultant to help its retail and restaurant tenants negotiate the COVID-19 pandemic.
Like some other building owners, Capstone Advisors also has offered its tenants rent relief.
"We're doing everything we can and then some more things," said Capstone Advisors CEO Alex Zikakis.
Capstone Advisors own shopping centers in San Diego County and elsewhere with restaurants and retail shops that have been hard hit by restrictions imposed to combat the pandemic.
Survival
Prior to the pandemic, Capstone Advisors and other shopping centers paid particular care to attract restaurants and other small businesses to make their centers more "experiential" so shoppers would linger rather shop and leave.
The challenge during the pandemic is survival.
For help, Capstone turned to marketing consultant Angel Cicerone, founder and president of Tenant Mentorship.
"She's provided information on a daily basis on best practices, on everything from how to address customer concerns, how to manage your own work force during this time, new signage for the stores, changes they have to make in behavior as well as highlighting touchless sales," Zikakis said.
Cicerone also advises businesses how to get the most out of social media.
Small Businesses
"The national tenants, they have the resources in house," Zikakis said, "but smaller businesses are left to fend for themselves."
"We focus only on small tenant retention and create programs that are going to help them stay in business and be able to pay their rent," Cicerone said. "Right now, there's a huge opportunity for small retailers to gain market share and there's a soft spot in people to support small business."
Some business owners simply hope to wait it out in the hope that business will soon return to normal, she said.
"It's never going to be the way it used to be. Pre-corona virus thinking will not prevail in a post-corona virus world," Cicerone said. "I think people want to make changes but they're afraid of it because they don't know how."
For starters, Cicerone said retailers and restaurant owners must have a greater online digital presence.
Digital Presence
"This is a great time to upgrade your digital presence. You could be selling online right now," she said.
For retailers, that includes using Zoom and other platforms to sell products.
"If you're a clothing store and you're not doing virtual fashion trunk shows, you're missing opportunity," Cicerone said.
Adjusting inventory also helps – selling more casual attire like sweat pants and tops, for example.
Restaurants might pivot to feature family meals instead of individual servings and offering third party delivery would help, she said.
Susan Haywood, owner of Ogi's Restaurant in Carmel Plaza said Capstone Advisors helped her by letting her expand outdoors.
"They've been great as far as helping me out with patio seating," Haywood said.
When the pandemic began in March, "They were kind enough to give me one month's free rent and give me 50 % off the second month," Haywood said.
She said Capstone Advisors offered her a third month at half rent, but she declined the offer because she said she'd eventually have to repay the half she didn't pay.
Business also had picked up, Haywood said, although she said it's been down in July.
"It's just a roller coaster ride, it's up, then it's down," Haywood said.
Think Long Term
Cicerone urges restaurant and other business owners to think long term.
"We cannot make up the money we lost today or tomorrow. We have to look at changing and actually rebuilding our business in a more dynamic and digitally focused way," Cicerone said.
Zikakis declined to say how many of Capstone Advisors' tenants haven't been paying their rent, but he said that the national average is that about 20 percent of retailers haven't.
"The vast majority of our tenants are paying some rent," Zikakis said, adding that "a sizable percentage of renters do need some assistance at this time."
"We're being pretty liberal with rent deferral," Zikakis said.
Brian Melekian, owner of Stretch Zone in Encinitas, was among those whose rent was deferred by Capstone Advisors.
"The pandemic hit in mid-March. Within a week, they had proactively contacted all of us tenants and without even being asked, issued a forbearance, forgave our rent for April," Melekian said. "They want us to succeed because then they succeed. If we fail, then they fail."