Contact Tracing Startup Gives Local Cos. Peace Of Mind
Monday, August 3, 2020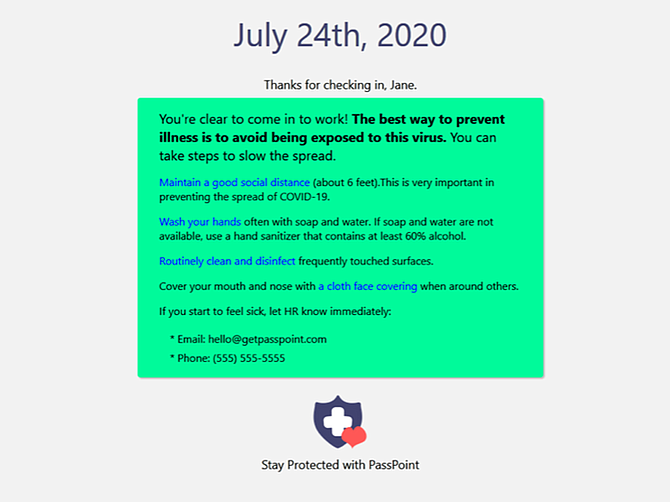 San Diego entrepreneur Hooman Borghei has launched his latest contact tracing startup PassPoint, which is using technology to help businesses better screen their employees for COVID-19 symptoms.
This is the second venture for Borghei, who formerly led startup WaterVault, a San Diego-based startup that helped hotels or property management companies detect leaks and measure water flow, founded in 2018.
Pivoting
In March, he formed PassPoint to serve existing customers and other small businesses to better protect their employees from the coronavirus, as well as stay prepared well beyond it.
PassPoint is a productivity tool that helps businesses screen employees for illness and provides custom contact tracing reports.
"When COVID hit, we immediately reached out to our customers to understand their needs and pain points. We learned that they needed a better way to do contact tracing and keep their employees safe," said Borghei. "So we put together a completely automated system that helps employers do the contact tracing and symptom screening."
The software allows employees, vendors or guests to self-certify about any symptoms they are experiencing, and in the event of an issue, identify which other employees are at highest risk of infection by creating a custom contact tracing report.
Onboarding Clients
Borghei said the company's traction has been strong as thousands of businesses needed this solution, adding that the team is onboarding a few clients this week alone.
"We show them this, a simpler solution and (they) immediately get it and jump on board," said Borghei. "The growth has been strong, as many businesses were using spreadsheets to gather symptom information which is simply not the tool for that."
Carlsbad-based Calsense, an industry leader in water management solutions for government entities, became a recent customer with PassPoint.
A.J. van de Ven, president of Calsense, said when they first signed up with the startup, there were a handful of features they felt would tailor the platform for its distributed workforce. After a brief virtual meeting with Hooman and his team, the company said it saw several of those features implemented within a matter of days.
"PassPoint doesn't just provide peace of mind for team members who work in our headquarters, but our remote team as well. Our nationwide workforce logs in each day, providing the company valuable insights about potential risks. It also gives us the ability to perform company-wide contact tracing in the event someone is exposed," said van de Ven. "Hooman and his team have been an absolute pleasure to work with. Their level of service far exceeds that of many other SaaS platforms we have used in the past and we are excited to see how PassPoint evolves throughout this pandemic."
Even after the pandemic subsides, contact tracing may remain a regular habit for employers looking to ensure safety. PassPoint's market opportunity lies in the "millions," Borghei said, pointing out that any essential business that is open is a potential customer.
PassPoint's business model is a monthly recurring charge for its service with free access to startups under five employees. For businesses with over 50 employees the cost is $1 per employee each month and for businesses under 50 the cost is $49 per month.
By the year's end, Passpoint's goal is to bring on its first hundred clients. Once that goal is reached, the next milestone is to have more than 1,000 clients.
PassPoint's customers, on average, are seeing over 90% compliance rates for employee self-certification. So far, its client base includes local restaurants, startups and business associations.
PassPoint currently has five employees at its headquarters in downtown San Diego. Borghei bootstrapped both companies using his own savings.
"We haven't taken one dollar of outside funding. I've always prided myself on being able to build businesses with my own knowledge and finances," said Borghei. "Throughout COVID, we didn't take Paycheck Protection Program (PPP) money and we managed to keep the doors open. When the time came to pivot, we were able to be nimble and go into the next area of work."