Unmanned Aircraft Concept Could Be Payday for Contractors
Sunday, August 2, 2020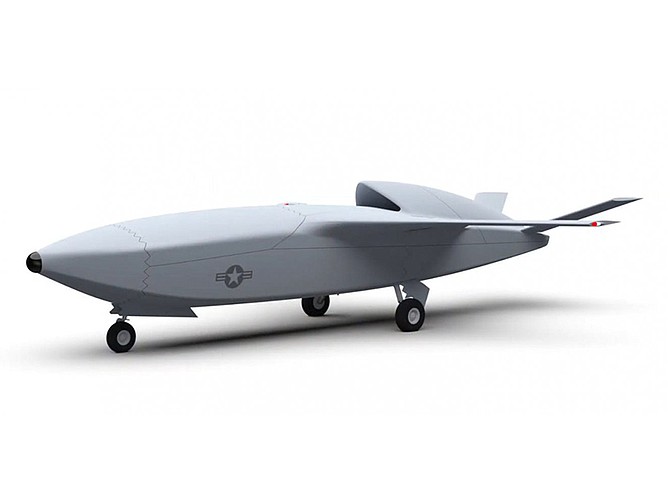 The U.S. Air Force has tapped a small group of aerospace companies to help it engineer autonomous drones able to fly into battle together with manned fighters. It is making up to $400 million available for the project, which it calls Skyborg.
Four companies made the short list to work on the project, and three have a presence in San Diego. They are General Atomics Aeronautical Systems Inc., Kratos Defense & Security Solutions Inc. and Northrop Grumman Corp.
The three, along with Boeing Co., will now compete for a piece of the $400 million account associated with the program. Work will run through 2026.
No money has been allocated to any of the vendors yet. Nevertheless, they have already had a measure of success, since 18 companies made bids to be part of the program. The Pentagon announced the contract awards on July 23.
Kratos in the Spotlight
Kratos (Nasdaq: KTOS) was making news for another reason in late July. There was speculation that Lockheed Martin Corp. (NYSE: LMT) might buy the San Diego company. Lou Whiteman, an author on The Motley Fool website, said that was the reason Kratos shares appreciated 11% to $17.85 on July 22.
Two days later, Whiteman wrote that it was surprising Lockheed Martin was not on the list of four companies in the Skyborg effort, suggesting another reason the big company might be interested in an acquisition.
Kratos got into the unmanned aircraft business when it acquired Composite Engineering Inc. of Sacramento in 2012. At the time, the business specialized in target drones. Later in the decade, Kratos built a second factory for unmanned aircraft in Oklahoma City, which turned out its first products in 2019. In recent years, Kratos has been testing several unmanned aircraft concepts, including the XQ-58A Valkyrie, built under a contract with the Air Force Research Laboratory.
In the last year, Kratos has acquired companies that make small jet engines.
Keeping Expenses in Line
One aim of the Skyborg program is to make aircraft that are inexpensive and attritable — that is, subject to attrition, or disposable. Another aim is to make aircraft that can operate using artificial intelligence.
The four contractors in the Skyborg program may be asked to produce prototypes. Part of the work will center on the unseen aspect of unmanned systems: software.
"Because autonomous systems can support missions that are too strenuous or dangerous for manned crews, Skyborg can increase capability significantly and be a force multiplier for the Air Force," said Brig. Gen. Dale White, one of the Skyborg program's two military leaders. "We have the opportunity to transform our war-fighting capabilities and change the way we fight and the way we employ air power." White is program executive officer for fighters and advanced aircraft at the Air Force Life Cycle Management Center in Ohio.
"Autonomy technologies in Skyborg's portfolio will range from simple playbook algorithms to advanced team decision making and will include on-ramp opportunities for artificial intelligence technologies," said Brig. Gen. Heather Pringle, commander of Air Force Research Laboratory and the program's other leader. "This effort will provide a foundational government reference architecture for a family of layered, autonomous and open-architecture UAS." The letters stand for unmanned aerial systems.
The Skyborg contracts are indefinite quantity, indefinite delivery contracts, awarded through the Air Force Life Cycle Management office at Wright Patterson Air Force Base in Ohio.
Ground Zero for Unmanned Aviation
San Diego could easily argue it is the nation's capital for unmanned aviation.
One of the Skyborg contractors, General Atomics Aeronautical Systems, is the affiliate of privately held General Atomics. It is based in Poway and produces the Predator family of unmanned aircraft. The Air Force, Army, Marines and foreign militaries have bought Predator family aircraft in large numbers. The large size Reaper aircraft can stay aloft for more than 27 hours.
Another Skyborg contractor, Northrop Grumman (NYSE: NOC), does not actually build unmanned aircraft in San Diego County. Yet Rancho Bernardo is the center of the company's unmanned aviation programs. Northrop Grumman produces the Global Hawk (which can fly as high as 11 miles) and the similar Triton aircraft for the U.S. military. It also adapts commercial helicopters for unmanned use in a program called Fire Scout.