Good News
Sunday, August 2, 2020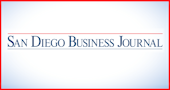 There was some remarkable news out of San Diego-based Qualcomm this past week. Its stock rose above $100 a share, which was a goal CEO Steve Mollenkopf was working on since 2018, the year of the failed Broadcom takeover bid, and the year the NXP acquisition fell through.
The stock was at $93 a share last Wednesday before its earnings were disclosed and then grew to $107.19 after the announcement. Qualcomm had an excellent Q3 after striking a deal with Huawei giving them deals with every major handset provider.
This would alleviate a lot of risk for Qualcomm investors and the market responded accordingly.
•••
In some additional good news, it was announced by San Diego State University that gift commitments totaled $127,255,503 for fiscal year 2019-2020. Even with COVID-19, the university is seeing an increase of 10% from the previous year.
These numbers for the year ending June 30 were announced by SDSU Vice President of University Relations and Development Adrienne Vargas and represent a second consecutive year of fundraising growth, according to the university.
The gift recipients included SDSU Athletics, which received $33.6 million from donors, and KPBS, which received gifts totaling $30.85 million. Total donations to Academic Affairs which includes gifts throughout all colleges and the Imperial Valley campus totaled $50.8 million. The largest single donations came from local philanthropist Dianne L. Bashor who pledged $15 million toward the construction of the new stadium in Mission Valley. To recognize this gift, SDSU is naming the field of the new stadium Bashor Field.
Vargas said SDSU alumni and other donors are recognizing the university's importance as an economic driver for the San Diego region.
Good news after earlier tough announcements that the university is facing state budget cuts of $30 million in the aftermath of COVID-19.
•••
Allied Universal, one of the leading security and facility services companies in North America, is seeking to hire 300 San Diego security professionals. The company is hosting hiring events from 9 a.m. to 2 p.m. every Wednesday in August and September at the company's regional office at 10680 Treena Street in San Diego. According to the company, they are recruiting for all shifts and for all levels of experience.
"Our clients, and the public at large, rely on us to keep our communities and businesses safe and secure especially during these challenging times," said Steve Jones, chairman and CEO of Allied Universal. "Our security professionals play a pivotal part ensuring facilities can continue business as usual and other businesses that had to close can rest assured that their assets will remain protected," he said.
•••
The San Diego Regional Economic Development Corporation is looking for help in finding interns. They are looking for individuals interested in economic development, marketing, or accounting. They also need to be able to work remotely and have a computer. Applications may be found under "internship" on the organization's website: sandiegobusiness.org.