Cohn Restaurant Group Continues to Innovate
Sunday, August 2, 2020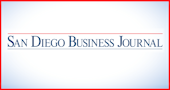 David Cohn and Lesley Cohn, co-founders of Cohn Restaurant Group, Inc., a local family-owned-and-run hospitality firm which owns and operates 25 restaurants in Southern California and Maui, Hawaii, is being somewhat conservative – and cautiously optimistic – about his business investments these days.
"There isn't normal demand for dining right now – it's a bit of a novelty," he said. "October and November are typically not great restaurant months in San Diego as we are a bit seasonal. December is a big holiday party and corporate events month, and we don't know what that will look like. So, we are keeping in touch with the county and the state in terms of what the stages and restrictions look like. The only thing people can do right now is be vigilant and kind of understand what is going on."
Yet, the pandemic hasn't stopped the hospitality industry veteran from innovating and delving into new ventures through savvy acquisitions and sharp business intuition.
Float
With his downtown-located Island Prime steakhouse currently closed due to COVID-19-related regulations, Cohn had the wit to launch a temporary, floating restaurant pop-up rendition of it, Island Prime Pop-Up Restaurant, on his Harbor Island open-air event venue. Typically reserved for weddings and other private functions like corporate events and ticketed activations, the 6,000 square-foot deck is located behind Coasterra, Cohn Group's oceanfront fine-dining location, can accommodate up to 68 seats and has unobstructed waterfront views.
So far, Cohn said the pop-up has been "very busy" since he made the strategic move.
"People enjoy being on the bay, having amazing views and this overall unique experience," he said. "I can't think of a steakhouse in San Diego that has a patio. And, most, if not all of them, are closed. By being able to move it over to Coasterra, across the parking lot, we were able to create a limited menu with a different environment and the bonus of a view but still with the same service and quality."
Cohn said he plans to keep the Island Prime pop-up on the floating center until indoor dining reopens.
Acquisition
Additionally, after two years of courting owner Catherine Perez, Cohn has acquired Liberty Station-headquartered Con Pane Rustic Breads & Café bakery. Cohn said, with the help of Perez, who will stay on board through the end of the year for training purposes, he will keep all of the Con Pane original recipes intact.
With plans of opening late September/early October, the acquisition of the beloved bakery was calculated, as it will not only continue to serve its loyal customer base, according to Cohn, but also provide all baked goods for Cohn Restaurant Group's food places moving forward.
"In the wake of COVID-19, the timing isn't great," said Cohn, "but we love Con Pane, and it's our goal to preserve what Catherine has built over the last 20 years. We want to continue the good work she's done in making this bakery a great Liberty Station asset."
This all doesn't come without risk. But, Cohn's expertise and longevity in the hospitality industry – Cohn Restaurant Group was founded in 1981 and operates a total of 25 properties – add undeniable merit to his business acumen.
Number One Supplier
Carl Winston, director of San Diego State University's L. Robert Payne School of Hospitality and Tourism Management, said Cohn has always been a risk taker, but has always been savvy about the risks he takes.
Take Con Pane, for example.
"I wouldn't be surprised if the bakery sold at a loss because of the economic times," said Winston. "He probably got it for, say, 60% of the cost. The other thing is, now he has a new bakery for his restaurants. Knowing how smart he is, David Cohn just became his own supplier."
This, Winston said, shows Cohn's out-the-box thinking and separates him from others that follow cookie cutter formulas and "focus relentlessly on saving pennies."
"David buys a bakery so he has a cheaper supply of baked goods," he said. There are other local operators "who do big flashy things and sometimes they fail. But, David Cohn – he doesn't have failures."