Accelerator-Backed Startups Find COVID-19 Opportunities
Tuesday, April 28, 2020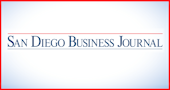 The COVID- 19 crisis has shown more weaknesses in healthcare systems than ever before.
Given the rapid changes, a handful of startups are finding new opportunities to reduce friction in healthcare systems. More than 20 of Nex Cubed's digital healthcare companies are helping with the COVID-19 crisis, whether to produce better tests, treatments and vaccines, or resources for hospitals and health systems.
Founded in 2017, the San Diego-based accelerator has been preparing for the shift and future of the healthcare industry, launching its Digital Health specific program two years ago. 
Leader in Digital Health
Nex Cubed established itself as a leader in Digital Health, becoming one of the most active Digital Health Investors in the U.S., and recognized as a top 10 Digital Health Accelerator in the world.
To date, the accelerator has invested across 23 companies, with a total of $35 million in startup capital raised from investors.  
Most recently, local startup MedCrypt closed its $5.3 million Series A round led by section 32, a Solana Beach-based venture firm. In addition, other successful portfolio companies include Trials.ai, Bloom, and Rock Step Solutions. 
In exchange for a 7 percent equity stake, participating companies receive $40,000 in cash, up from $25,000 last year. In addition, participants receive access a top-tier advisory board, with members ranging from a Bayer executive to a former U.S. Food and Drug Administration deputy commissioner, among others to help scale their business.
Next Generation Accelerator
Nex Cubed sees itself as the next generation following the footsteps of elite accelerator like Silicon Valley's Y Combinator and Techstars program. 
Besides focused on supporting the best digital health companies in the country, the program differentiates itself through its paid advisory network which works with founders on a daily basis. In total, the group has over 40 investors ranging from angel to later-stage to institutional investors. 
"The current pandemic has shown that digital healthcare, up until this point, it has been a nice-to-have. Whereas in the last four weeks it's a must-have for the healthcare sector," Managing Director of Nex Cubed, Daniel Haders said.
"People are realizing that not only do they need many of the digital health solutions that our portfolio companies have created, but healthcare, as we exit this pandemic, is going to look very different than healthcare as we entered this pandemic," he said.
The four-month program is semi-remote, which means startups from across the U.S. can participate; they only need to be at Nex3's La Jolla offices for the program kickoff, the halfway point and the demo day at the end.
Nex Cubed's portfolio companies who are supporting the community during the COVID-19 pandemic:
Repurpose.AI — Repurpose.AI has joined the fight to battle the global COVID-19 pandemic by harnessing the predictive prowess of their AI Drug Discovery Platform to discover drugs that may be repurposed and serve as therapeutics to prevent individuals from being infected and treat individuals infected with the novel coronavirus.
DeFiner — DeFiner's Business Developer, Wei Liu, teamed up with Binance to orchestrate the funding and delivery of medical supplies to a hospital in Wuhan. Based in Wuhan, China, Wei Liu recently shared what he learned about Blockchain after two months under lockdown in Wuhan.
Porchlight — Porchlight, an app for meaningful connections with the people that matter most, is waiving all subscription fees and making their personal connection app, completely free throughout the duration of the crisis.
RockStep — RockStep Solutions is offering free climb licenses to research teams working on COVID-19 vaccines or therapeutics to support their studies. License fees are waived through 2020. Onboarding and other service fees still apply.
Destiny — To combat COVID-19, Destiny is giving away the Destiny Debt Roboadvisor to banks and credit unions for the next six months, free of charge, to help banks help their customers navigate the most critical times of their life. As customers need them now more than ever, Destiny has the platform to serve them.
eCare21 — eCare21 is collaborating with Dell Technologies to enable virtual healthcare during the COVID-19 pandemic. The integrated solution dramatically simplifies the deployment of patient-centered virtual care for patients with chronic conditions, improving the quality of care and lowering costs.
Earn.re — Earn.re is joining the battle against COVID-19 and its impact on the economy by waiving set-up and servicing fees for financial institutions during the crisis. Earn's technology helps banks and financial institutions service existing debt instruments in a frictionless and automated manner.
Elly Health — Elly Health is supporting the cancer community during the COVID-19 pandemic by creating coronavirus specific content that is delivering empathetic and clarifying messages in a time of chaos and confusion.
Blackbird.AI — The COVID-19 outbreak is resulting in constant trending events across social media at an unprecedented rate. According to a new study published by Blackbird.AI, the rise of disinformation online could be making the COVID-19 crisis worse.
OOTify — OOTify is supporting mental health and social distancing by leveraging its HIPAA compliant telemedicine platform. They've taken steps to connect providers with more clients and are also offering a free 60-day trial from them to use the platform to serve prospective clients.
SkillPower — SkillPower has recently signed the US Air Force Department of Defense (DoD) as a client for collaboration on a diabetes-focused digital health app. Together, they will work to provide the latest behavior change from major universities that measurably boosts user's willpower to improve their health as part of an overall diabetes and pre-diabetes program.
iSport360 — Due the suspension of youth sports in the country, iSport360 will offer it's app for free all season long to every sports organization that is struggling to keep its teams connected and strong.
Hupnos — Hupnos has reduced the price of their anti-snoring mask to $199, enabling customers to sleep calmly, wake rested, and reduce cabin fever.
Tribe Health Solutions — Tribe Health created an end-to-end technology solution for the management of COVID-19 testing data, symptom tracking, and telehealth that leverages the company's AIR platform — a patent-pending, HIPAA compliant, Blockchain-based platform.
Trials.ai — Trials.ai is leveraging artificial intelligence (AI) to predict better responders to a therapy, which leads to better patient recruitment and more efficient trials.