New Parks and Fire Station Part of Millenia Project in Chula Vista
Monday, April 27, 2020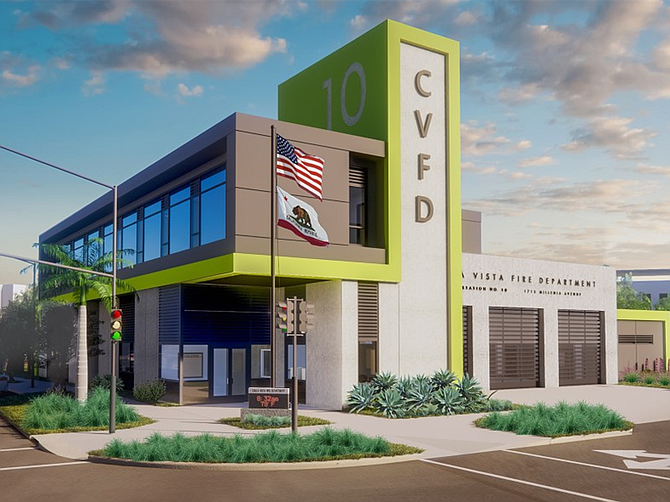 Chula Vista is getting a fire station, three new parks and a pedestrian bridge connecting two new neighborhoods in the eastern part of the city as part of the Millenia development.
Meridian Development, the developer of the 210-acre Millennia community, finished work on the fire station and parks and has turned $15 million in improvements over to the city, including two of the parks and a fire station.
The third park is due for completion in a year.
Work Finished Sooner Than Required
The company was required to provide the parks, fire station and bridge under the terms of its development agreement with the city but Meridian did the work sooner than required, said Todd Galarneau, executive vice president of Meridian Development.
Typically, a developer will pay development fees to a city, which will make the improvements when enough money is collected.
Parks Built Early
"We wanted to make sure the parks were built early in the project. We took control of that. We worked collaboratively with the city," Galarneau said. "So often, community amenities lag. It has taken coordinated and very focused effort among the owner, developer and city staff and officials."
Designed by Jeff Katz Architecture and built by EC Constructors of Lakeside in a design-build process, the 12,500 square foot Fire Station 10 at the corner of Millennia Avenue and Stylus Street will provide fire protection to an under-served portion of the city.
The two-story building includes three wide drive-through apparatus bays including room for a ladder truck and accommodations for a crew of 12.
The sustainable design includes photo voltaic solar panels and a number of other measures to make it a green building, Galarneau said.
The two parks that were part of the $15 million in improvements were the 1.5-acre Orion Park at the intersection of Orion Avenue and Strata Street and the 1.9-acre Strata Park at the intersection of Montage Avenue and Strata Street.
Designed by MIG Inc., Orion Park includes two children's play areas – one for children aged two to five and one for children five to 12.
It also has a dog park, shaded picnic tables, rest rooms and large plazas.
Strata Park, designed by Spurlock Landscape Architects, is built around a theme of light.
Among its features are a large trellis with colored lighting, pavement that glows in the dark, and illuminated light cubes.
Strata also has an outdoor game area, a community plaza, barbecue and picnic areas, a fitness training circuit, and a community garden that is ADA accessible.
The garden has 23 plots, four-feet-by-four-feet each.
The plots can be rented by people who live in Millenia and the community at large, Galarneau said. Rental fees haven't been set.
Bridge Still Under Construction
Still under construction is a $3 million pedestrian and bicycle bridge across Eastlake Parkway that connects Millennia to the village of Winding Walk. The bridge is due to be completed in May.
Longer term, Meridian is building the 3.6 acre Millennia Park on Millennia Avenue north of Strata Street.
Due for completion in summer 2021, Millennia Park will include a regulation soccer field, tennis court, half-basketball court, restrooms, jogging path, children's play areas and event space.