New Chief Revenue Officer Named at Spa Girl Cocktails
Thursday, April 23, 2020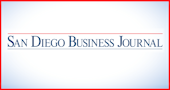 Spa Girl Cocktails has appointed Robin McGee as its new Chief Revenue Officer.
According to an email from the San Diego-based company, McGee was formerly CEO and president of Osmosis Beauty. In her new role, she will oversee Spa Girl Cocktail's partnership with Southern Glazer's Wine & Spirits and all national chain retailers.
In coming weeks, Spa Girl Cocktails will release its 200 ML ready-to-drink sparkling canned cocktails, as per the company.
Travel & Hospitality reporter Mariel Concepcion can be reached at mconcepcion@sdbj.com or 858-634-4625.