Innovation Keeps Susan G. Komen in Spotlight
Wednesday, April 22, 2020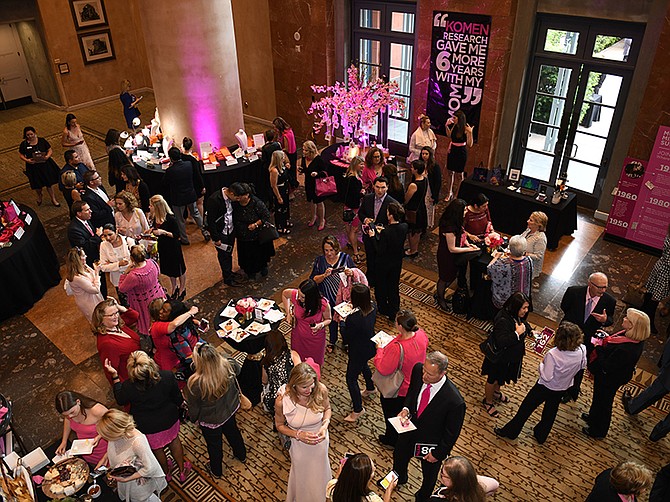 In the past four years, Susan G. Komen San Diego has requested the 350 guests or so that attend its annual "More than Pink" fundraiser event wear formal attire with a pop of pink, the color associated with breast cancer awareness. This year, the organization is suggesting those "attending" dress casual – a lot more casual.
Due to the novel coronavirus lockdown, social distancing and shelter-at-home orders, the nonprofit is hosting its event online this year. Scheduled for 7 p.m., Friday, May 29, Komen is suggesting its viewers, who will hopefully tune in from the comfort of their homes, come leisurely.
Still, while the dress code is a little bit more laidback this year, the goal of the campaign remains the same, said Annie Alwine, senior director of marketing and communications at Susan G. Komen San Diego: to raise as close to the roughly $200,000 the event makes each year to financially support San Diegans going through breast cancer treatment.
Raise Money
"We didn't think we would be able to have the event in person this year, but it was still important to try to raise money," said Alwine, adding that the 25-year-old Kearny Mesa-based organization has nine employees and a $2 million annual operating budget. "We are a really small grassroots non-profit that relies on the local San Diego community. We provide gas cards, transportation, financial assistance, childcare – all these necessities so no one has to decide to go homeless or to stop putting food on the table to get through treatment. Now that so many are getting hit by COVID-19 and jobs are more at risk right now – maybe breast cancer patients are essential workers, even – we knew we needed to continue to have this event and do our best to raise money."
"We are only as healthy as the most vulnerable among us," said Meredith Hall-Chand. " The Virtual Dinner will help pay for food, childcare, rent, mortgages, utilities, prescriptions, and more for immunocompromised and low-income breast cancer patients in San Diego."
After lots of research, Alwine said Susan G. Komen San Diego opted to host this year's event on YouTube Live so that those "attending" the virtual affair can interact with the host, Zack Krone, and one another. In the past, the event tickets cost $250 per person and $2,500 per table, she said, but now that it is virtual, it is free of charge as long as folks RSVP, at komensandiego.org. For those inclined to give more, there are VIP packages available, said Alwine. The Silver Virtual Ticket bundle for $125 includes a $25 certificate to a local eatery, an automatic entry into a prize drawing worth up to $750, and, for the first 25 purchases, cookies delivered to their doors before the event. The Silver and Pink Virtual Table set for $1,250, includes all of the same perks as the Silver but for 10 people, said Alwine.
Online Auction
Additionally, this year's gathering will offer an online auction, with secured items like a pink stand up paddle board, spa services at Estancia La Jolla Hotel & Spa, a stay in Deer Valley in Park City, Utah, fitness classes at CorePower Yoga and Pure Barre and a facial from SKY Facial Plastic Surgery, said Alwine. Live musicians will also entertain throughout the one-hour-long event, she said, during which 25 influencers from the San Diego community will be honored for their impact in the breast cancer fight and involvement with Susan G. Komen.
"On a Friday night, people are home, some still working, but we hope people will tune in and we will do our best to entertain and educate them," said Alwine, adding that the non-profit expects San Diego-based philanthropists and members of the medical community to partake. "What I've seen is that people are still really wanting to help. Although people may still be a little scared (because of COVID-19), of what could happen or what might not happen, there is still a strong desire to help others right now. We hope this event gives them the avenue to do that."
Race for the Cure
Looking ahead, Alwine said Susan G. Komen will begin promoting its annual November "Race for the Cure" 5K and one-mile walk, which raises almost $1 million a year and draws up to 15,000 people, at the end of April in time for Mother's Day. But, if the climate is still not safe for that type of event by the fall, she said the organization is already working on a contingency plan to either refund those registered, reschedule the event or, quite possibly, have a virtual "Race for the Cure" instead.