Educational Institutions to Remain Virtual
Tuesday, April 21, 2020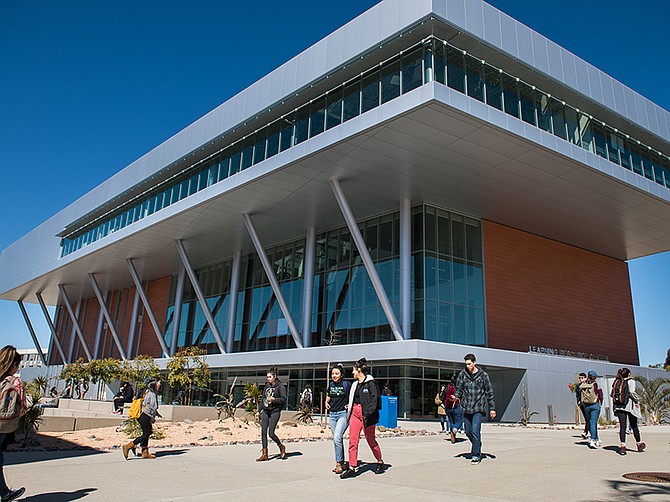 In mid-March, San Diego State University, University of San Diego and California State University San Marcos ordered its students to move out of campus dorms amid COVID-19 concerns, with remote operations starting shortly after. Now, the three schools, along with most of San Diego County's universities and colleges, have announced plans to remain virtual through the summer semester in response to a potential extension of stay-at-home orders.
"In recent years, San Diego State University has accelerated the move of summer courses online, driven by a greater need to meet the growing demand for digital instruction and to help students stay on track to graduation," states a report on the San Diego State University NewsCenter site. "This summer, all summer courses will be virtual, with most of the courses originally published as face-to-face or hybrid being moved to the virtual modality. Those few summer courses that do not lend themselves to virtualization at this time will be canceled."
Similarly, the University of California San Diego made public its plans to continue to teach its course load online during the summer months in effort to help flatten the curve.
"The current public health emergency associated with the COVID-19 pandemic will impact not only the Spring Quarter, but also our Summer Session," reads an April 9 press release from the university. "In order to continue the vital social distancing that contributes to public health, UC San Diego will continue to deliver all instruction by remote means during Summer 2020. This includes all summer session courses and summer success programs offered by any unit."
And, the San Diego Community College District, which includes San Diego City College, Mesa College and Miramar College, as well as San Diego Continuing Education, for example, is also expected to extend online classes through the summer.
Somewhat Early Decision
Jack S. Kahn, acting assistant superintendent/president of the district for Palomar College in San Marcos, which also confirmed plans to conduct distance learning past June, said several factors have prompted the decision to extend the current remote delivery of courses for the summer semester for educational institutions in San Diego. The first one being, while the summer begins in June and summer semester in May, registration for most, if not all, have already begun to take place in April for some, others as early as March and even February, he said.
"Another factor is that we are fortunate enough to be able to speak to all regional presidents in San Diego colleges to find out how others are handling everything," said Kahn. "Each college is unique but good to get a sense of what the region as a whole is doing. In the last several weeks, it was already clear everyone was going in this direction. Most importantly, we refer to data that comes through the Center for Disease Control and Prevention and the chancellor's office. For us, it is a major inconvenience and it is difficult, but the safety of our students and faculty is the most important. We won't take any risks with health and safety."
Entire Registration Process Online
Julie Lanthier Bandy, director of marketing, communications and public affairs at Palomar College, said, as a result, students can go through the entire registration process online, including orientation and options to make tuition payments. She also said that students that want to meet with academic counselors and financial aid advisors can do so via Zoom meetings or phone appointments.
"Even our academic tutoring program is available online," she said.
Kahn added that the schools all use a learning management system, like Canvas Learning Management Platform, which allows it to build its respective learning environments, with most faculty members having autonomy to choose other methods like video conferencing tools that further cater to their specific teaching styles and course loads.
Learning Management Platforms
Margaret Chantung, associate vice president for communications at California State University San Marcos, said CSUSM announced its decision to deliver the entire summer course schedule online on April 6. The decision, she said, was based on guidance from the California State University Chancellor's office and given that there is no clear timeline yet for when stay-at-home orders will be lifted.
"CSUSM's Faculty Center and Instructional & Information Technology Services unit did a fantastic job collaborating together to assemble an array of tools to help faculty move their classes online, engage students in distance learning and meet course objectives," she said. "From Moodle, a course management system, to Zoom to Microsoft Teams, faculty have many options. Faculty had access to workshops and online resources to not only assist them in transitioning their courses but they also had an opportunity to ask questions and clarify expectations."
For example, Chantung said a kinesiology professor at CSUSM incorporated virtual labs and introduced a gamification platform for lecture content, which students have been enjoying. She said 890 professors are involved in the summer program, which begins June 1 and ends August 8.
Equally and after careful consideration, the University of San Diego recently made the decision to extend remote teaching to include Summer 2020, according to the institution. The safety of its community is its top priority, reads a message on its site. Both registration and tuition payments have been extended, as per Lissette Martinez, director of media relations at USD.
"The safety of our community is our top priority and we believe that extending remote teaching to support social distancing efforts is the best decision at this time," she said. "We have also extended the summer 2020 registration to May 1."
As well, Point Loma Nazarene University has announced its decision to roll its online course format from the spring into the summer. This includes both traditional undergraduate summer school on the Point Loma campus and all graduate and adult degree completion summer term programs, according to the university. The summer calendar will not change but some course programming will be adjusted and additional programs will be added to support student needs, the spokesperson said.
Southwestern College in Chula Vista and Grossmont College in El Cajon will also hold summer session online to continue to do their part to help stop the spread of COVID-19 by practicing social distancing. And, as of March 12, National University is teaching all its courses online until further notice, said a representative.
Same Decision Come Fall
Kahn from Palomar College said, because stay at home orders might extend past May in the state of California, as per recent warnings from both Governor Gavin Newsom and Chancellor Timothy P. White, the county's universities and colleges might be faced with having to make the same decision come fall. If that is the case and with registration for that semester starting as early as June for some schools, it is very likely, he said.
CSUSM's Chantung Agrees
"Preliminary discussions are taking place but no decisions have been made yet," she said. "We are continuing to review the situation in consultation with our chancellor's Office, county and state leaders and health agencies. It's obviously a very challenging time, not just for the CSUSM community, but the entire country, so it's important that everyone follows state and local directives to maintain health and safety."