Company Brings Actionable Data To Health, Wellness Table
Tuesday, April 21, 2020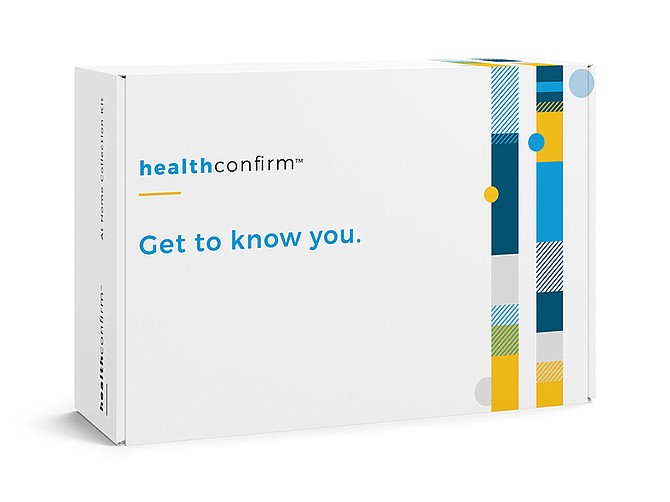 Ensuring a healthy hiring process has always been part of Confirm BioSciences, a San Diego-based med-tech company which started out providing drug tests and screenings mostly for the B2B market. Confirm prided itself on its nimble operations and ability to take advantage of opportunities and openings. So, It's not surprising to have the company now applying its skill set to workplace health and wellness.
"We can screen job candidates before hiring, but that is not enough," said Chief Operating Officer Nikhil Nayak We need to continue the process and make sure employees are healthy and productive."
Pilot Program
Confirm is in a pilot program testing its health and wellness platform, HealthState, at a local medical company which employs about 630 workers. The other company in the pilot program is Confirm BioSciences, itself, with about 60 employees.
"Having healthy snacks, Pilates on Friday and free gym memberships is fine but it is not customized," Nayak said, "you don't really know if you're helping them (customers) or not."
Actionable Data
It is Confirm's goal to provide employers with meaningful, actionable data. Much of the data is provided by HealthConfirm, the at-home-tests that provided data around stress levels and various biometrics, the company said. That data is provided individually to employees, and can be tapped as aggregated data for use by the client company.
"You can take the HealthConfirm's stress test which is administered four times in a day, Nayak said.
"In New York, Los Angeles and here, you may notice a spike, a midmorning high," Nayak said. "It could just be the stress of waking up, but it could possibly be the commute. Maybe the company should try changing the commute from 8-5 to 6-3 instead. That is an example of how to use actionable data."
According to company, the program includes telemedicine services, customized wellness plans generated by a health assessment, a cognitive-based stress management course.
In the wellness platform, individuals get to view their results in their own secure, private portal the company said.
Confirm BioSciences says it took a conservative approach when setting the limit of aggregated data at 25 employees in order to maintain privacy of employees participating in HealthState.
Confirm said data might show a problem in Los Angeles location or in finance department.
"It gives clients a chance to put that information together and make real changes in the workplace for employees, Nayak said. "For Confirm BioSciences, we find the way we can most help individuals is through the employment side.
Confirm is not currently signing up companies, it is working on a white paper and plans to present its solution to executives at an upcoming HR conference which had been set for June.
HealthConfirm
Confirm BioSciences in November unveiled its HealthConfirm, a series of at home testing kits, which are also used in its wellness program. "The testing kits, designed to measure a range of specific health components ranging from hormones to stress levels, vitamin levels and more, the company said.
"More people today are taking their health into their own hands," COO Nayak said. "You see it in Google users searching for information; people are looking for that actionable data."
The tests include hormone levels, vitamin D levels, brain neurotransmitter balance and thyroid health.
The tests are sent to various labs. Confirm said it tries to be "lab agnostic," so it can send tests to the lab that best fits, not necessarily the lab with good connections.
The test results are sent back through secure, private portal. Confirm BioSciences says its team has years of experience in security and privacy dating back to before even Confirm BioSciences was founded in 2008.
The results are then available to the individual. According to Confirm, one of its strengths is providing information and interpretation that a lay person can understand and take action on.
The company does at an additional cost offer a health coach or medical reviewer to help with the interpretation of results. The company said it will have a telemedicine component in the future, but it is working on the details.
'Retail Explosion'
Confirmed BioSciences said it's seen a "retail explosion." What started out as a. 95% B2B company has become a 50/50 split. Probably 4 out of top five retailers out there we are going to have a presence in, including Walmart and CVS." Nayak said. "We are on Amazon as well."
"People are moving more and more into that path of wanting to have data in their own hands," Nayak said. "Maybe they want to get in better shape or they are having problems sleeping. Having a physiological data point is very important."
"We've seen a tremendous impact with this launch Nayak said. "We think it is going to take off even more next year."
Leadership
The company has some new leadership to drive growth and work on its initiatives.
Last year, the company named Albert Berger as CEO and Nayak to COO position. The company is a woman owned company since its founding.
"The heart of it is putting people over profits and that was shown over my year and a half here," Nayak said. "The amount of caring that comes from founders to point that that both Albie (Berger) and myself try to push that mantra."
The founders are Zeynep Ilgaz and Serhat Pala both of whom are chief advisors to the company. Ilgaz is chairwoman of the board
The company is majority partner owned.