Stos Partners Buys San Marcos Building For $18.9 Million
Monday, April 20, 2020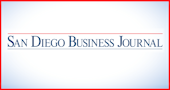 Stos Partners headquartered in Encinitas has acquired a vacant San Marcos industrial building for $18.9 million.
The seller was a private investor whose identity wasn't disclosed.
Bob Willington of Kidder Mathews represented Stos Partners.
"This was a rare opportunity to acquire an institutional-quality industrial and cold storage property with strong value potential in a logistical epicenter for Southern California," said CJ Stos, principal of Stos Partners.
The company plans to renovate the 113,500 square-foot building to attract last-mile distribution tenants.
Stos said that demand for last-mile distribution centers has been growing.
"This demand has become even more evident in the current environment," Stos said, adding that this was the third cold storage building his company has acquired over the past 12 months.
"This property has great bones and with the right capital improvements, is an excellent addition to our existing portfolio in San Diego," said Jason Richards, a partner at Stos Partners. "We plan to implement a variety of improvements including upgrades to the landscaping, repaving the parking lot, upgrading the roof, new paint and addressing deferred maintenance."