Hazlewood Earns Design-Build Certification
Monday, April 20, 2020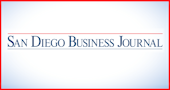 Corey Hazlewood, vice president of the general contracting and design-build group of C&S Companies, has earned a Designated Design-Build Professional certification from the Design-Build Institute of America.
The certification is the design-build industry's highest professional designation.
Hazelwood is based in C&S's San Diego office.
He joined the firm in 2002 and has been a principal since 2008.
Hazelwood is leads the design-build, general contracting and construction management business for C&S on the West Coast.